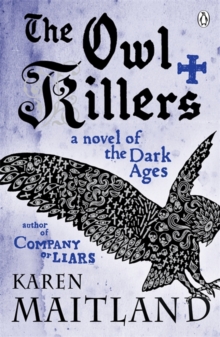 The Owl Killers
Paperback
Description
Another sensational slice of Dark Ages Gothic from the author of the triumphant seller Company of LiarsEngland, 1321Welcome to the Dark AgesIn the heart of the countryside lies an isolated village, where pagan Owl Masters rule through fear, superstition and murder.When a group of religious women ill-advisedly settles outside the village, they awaken dangerous jealousies.
Why do their crops succeed? How do their cattle survive the plague? Are they concealing a holy relic which protects them from harm?The Owl Masters cry 'Witchcraft' and sharpen their talons.
As torment and hellfire rain down, the women must look to their faith to save them from the darkness spreading across the land.Fear is a question of what you believe.And death alone the answer. Karen Maitland lives in Lincolnshire and is the author of The White Room, which won an Author's Club Best First Novel Award, and Company of Liars, published to outstanding critical acclaim in 2008.
Information
Format: Paperback
Pages: 576 pages
Publisher: Penguin Books Ltd
Publication Date: 01/03/2010
Category: Historical fiction
ISBN: 9780141031897
Free Home Delivery
on all orders
Pick up orders
from local bookshops
Reviews
Showing 1 - 4 of 4 reviews.
Review by AriadneAranea
16/06/2015
 Set in fourteenth century England, this novel follows the fortunes of several characters in the village of Ulewic (not sure about that name, by the way) and in the nearby beguinage. Some in the village reject the church and want to return to the old ways, when the people worshipped a terrifying demon known as the Owlman. So there are demons, witches real and imagined, cattle plague, floods, leprosy, heresy and holy relics - did we miss anything out? Oh, yes - bravery, cruelty, jealousy, love, misogyny, despair, fear, compassion and more than one murder. Still, it's not just a good old-fashioned battle between good and evil - the characters are complex and multi-faceted, and the "good" is often ambiguous. It took a while to get going, especially because the story is told from multiple viewpoints which is always difficult to pull off, but it was definitely worth ploughing on - and I look forward to reading Karen Maitland's other work.NOTE: Beguines are religious women who banded together as a community to do good works. They were in some ways similar to nuns but they were not - for example, they did not take vows or renounce their property and were free to leave at any time. For many women it was the ideal way, perhaps the only way, to live independently outside of marriage.
Review by soliloquies
16/06/2015
Entertaining, yet odd book, about a village steeped in superstition, the corruption of those in power and the distrust of outsiders. Parallels can be drawn with society today, quite easily. A lot of people probably won't like this because its characters are not particularly loveable, all manner of horrible things happen and life is grim. But it's for those reasons that I enjoyed it. The sections narrated by Beatrice were the most difficult to read as she just annoyed me intensely. Overall the multiple viewpoints gave the book a good balance.
Review by passion4reading
16/06/2015
It is 1321 and England is in the grip of a famine. A group of women, beguines from Flanders and a few locals, have established their place of refuge outside the village of Ulewic in rural Norfolk, and tensions with the villagers increase after they defy the local priest in a number of disputes. With their prayers not being answered, the population turns to some old, pagan, beliefs but they only manage to unleash a demon.Karen Maitland has already established herself as one of my favourite authors with Company of Liars and The Falcons of Fire and Ice with her masterful art of storytelling and atmosphere, as well as tackling topical ideas cloaked in the disguise of a historical novel. As in Falcons, Karen Maitland pitches the doctrine of the established Church against other forms of belief, in this case the old pagan traditions, the simpler faith of the beguines and the villagers' superstitions. It is mysterious and filled with a dark sense of foreboding, suspenseful and terrifying in equal measures. The voices of the five narrators are discrete and distinct, entirely believable throughout, and you feel for each of them in turn. The whole book is brimming with evocative and atmospheric details that bring home the harsh realities of living in the 14th century, with a clear sense of the hardship, social order and mixture of religious faith and superstitions, yet it also manages to explore notions of free will and being different that still have resonance today. Highly recommended.
Review by shanaqui
16/06/2015
I think this might be my favourite of Karen Maitland's books so far -- I definitely liked it more than The Gallows Curse, although it didn't grip me as tightly as Company of Liars. I have nothing really to nitpick about here, though: the five POVs were well done and cast interesting lights on each other, and I love the research Maitland clearly put into it. The very concept of a beguinage is pretty fascinating, so that helps, but the way Maitland brought this one to life -- and tried to explain a real historical event through it -- is even more so. I've always loved historical novels that take something we know (a wingless Roman Eagle was found buried in Silchester, and Rosemary Sutcliff wrote The Eagle of the Ninth to explain it, for example) and try to puzzle out <I>why</I>. Karen Maitland explores why the beguinages failed to take root in Britain, despite some evidence of them existing here, and despite their longevity and appeal on the continent.<br/><br/>As with her other books, she evokes the Middle Ages well -- the smells, the sounds, the sights. Perhaps a little predictably, I suppose: she gives us the vision of the Middle Ages we expect, dirt and plagues and superstition, but still. She does her work well.<br/><br/>I suppose I do have one nitpick, and that's the POV of Pisspuddle, which doesn't add much. It does add a villagers-eye view, so there's that, but mostly she's just a small child who doesn't matter that much to the events happening around her.<br/><br/>The characters are all intriguing: I really felt for Osmanna, and for Servant Martha, particularly. I felt very sorry for Beatrice, even though I knew she was seeing things from a very biased point of view. And Healer Martha deserved better.<br/><br/>Oh yes, and trigger warning: rape, abusive parents, sickness. More or less what you might expect, but just in case.