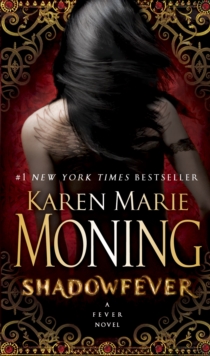 Information
Format: Paperback
Pages: 704 pages
Publisher: Random House USA Inc
Publication Date: 30/08/2011
Category: Fantasy
ISBN: 9780440244417
Other Formats
Paperback from £9.39
EPUB from £4.99
Free Home Delivery
on all orders
Pick up orders
from local bookshops
Reviews
Showing 1 - 5 of 10 reviews.
Previous | Next
Review by dhaupt
16/06/2015
Shadowfever is the fifth and final novel in the Fever series – Or is itIt's the most magnificent, most awaited and most revealing of the series – yet.MacKayla (Mac) Lane has been through hell, literally and lived to tell the tale, but she's in for the journey of her life or maybe her death in her last ditch effort to find and subdue the Sinsar Dubh a dark tomb thought to hold the essence of the Unseelie King, given into the care of the sidhe-seers of the Abbey who let it slip away twenty some years ago. She will battle old foes and new ones, she will love and she will loose and even though she's already lost so much, this time it may be fatal if not to her life then to her soul.Ms. Moning ends her epic urban fantasy series with a BANG in this immensely emotional and intensely action packed novel. Her readers will recognize many of the heros and villains of her previous novels along with a few new faces. Pay attention readers because you'll need to keep your wits about you to take in the myriad of information doled out in this mega-paged, mega-important read. She brings us her requiem with her identifiable no-nonsense in your face dialogue with amazing descriptions of places, beings and objects that her audience will visualize without effort even though most of us have never experienced any of these things personally. She uses her amazingly adept imagination to conjure some of the most fantastical characters ever put on paper and makes them believable in your eyes even in their unbelievable-ness because most of all she gives them heart and soul. And as she tells her tale she tells not one love story but many, romantic love, love of family, love of friends. Her romantic love story is as big as the novel and Mac will get her happy ever after and I can tell you that because Ms. Moning has already said she would, but I'll let you read it to see what the final outcome is because to tell you here would ruin most of the story. Her love scenes are sexually and sensually depicted with realism and candor but without being garish, she leaves that to describe the villainy. So you all want to know, is it worth the wait? YES. Will you read it over and over again? Definitely. Will it satisfy her fans? Absolutely.So wait no longer to fulfill your every fantasy ever brought to you by the once in a lifetime storytelling ability of Karen Marie Moning.Ms. Moning, my only question is. When will we get to go back to the streets of Dublin?Kudos for an amazing journey.
Review by LoveToReadForFun
16/06/2015
Let me get this out of the way first. Squeeeeeee!!!!!!!!!! This review will be spoiler free. It will be vague with a lot of gushing. Don't say I didn't warn you. This is what we Fever fans have all been waiting for. We anxiously counted down the days to the release of the 5th and final book of the Fever series, Shadowfever. I pre-ordered Shadowfever for my Kindle and woke up at 3am on Tuesday morning to start reading it. O.M.G.! I finished Shadowfever that same day. Karen Moning delivered everything and more! Dreamfever ended with a hell of a cliffhanger. We were left wondering who Mac had killed. Shadowfever picks up right where Dreamfever left off. We get the answer to the Dreamfever cliffhanger at the very beginning and that reveal is a punch in the gut. Moning grabs you from the very first page and does not let you go until the end. There were lots of OMG and WTF moments while reading Shadowfever. There were so many twists and turns that I couldn't keep everything straight in my head. I used my Kindle's highlighting feature so much that I had a cramp in my thumb by the time I was done. Shadowfever was everything I wanted and more. I worried that with the book being over 600 pages, that it would not live it to the hype. For me, it did. There were parts that were drawn out and long. How could it not be? It has to be difficult to write a book of this magnitude and not have the plot slow down or stall a little. I suspected this would be the case before I started reading, so I wasn't too bothered by it. The endless paragraphs of Mac asking questions got annoying at times but I just skimmed over them. And maybe some things were wrapped up too neatly or exposed too late in the book. But I didn't care. None of these issues ruined the book for me. When I finished Shadowfever, I was exhausted and happy. And then I started discussing Shadowfever with some of my friends and wanted to read it all over again. And I still do. I am suffering from PSSS (Post Shadowfever Stress Syndrome). I can't stop thinking about it! Shadowfever was the perfect finish to an awesomely great series. It was the icing on the cake. It was everything I expected and more. Questions were answered but just as many new questions were brought to the forefront. One door closes and another one opens, leaving the possibility of a Fever spin-off series. So this is the end....for now.
Review by mjmbecky
16/06/2015
What can I say at this point about the final book in the Fever series that hasn't been said and then said again by about one hundred other bloggers and reviewers? Yes, it's a great series that made me crazy, annoyed, anxious, eager, sad, and a million other emotions all rolled into one. Book four ended with a cliffhanger that had me screaming inside. At the time, I was in a hotel in London, with no access to book five, but knew it was sitting at home on my table. Needless to say, I waited to read it.The first half of the book zoomed by with a million twists and turns. One minute you think that Mac is one thing and then find out she might be another. That was the most crazy AND annoying thing about this entire storyline for me. Although I really do have to give Moning props for a story that manages to engage her readers in a storyline that feels nearly impossible to predict, I felt at times like I had whiplash. Mac is a great character, with a lot of pizazz and vulnerability, strength and normality to her. From book one on you really do care about what happens to her and want to know if she can avenge her sister, find out who she really is, and save the world. Yea, that's a pretty tall order.Overall, I really got caught up in this series and enjoyed how different it was from every other paranormal story I've read. Moning really seems to be this master crafter of the extended metaphor and simile. Her comparisons sometimes outnumber the direct answers she gives in the book, which had me trying to unravel who or what she was talking about at times. The series and book five are definitely for adults, with adult themes. This isn't a tame version of a paranormal novel, yet is very driven by Mac's story. In the end, all is resolved, but my one piece of advice would be to keep it moving. If you get tuckered out by all the "reveals" that then get revealed to be something else, just hang in there and read faster. The story is engaging and fast paced, but you have to stick with it.
Review by loveNicole
16/06/2015
I waited a little while before adding a review of this series because it left me feeling so conflicted.. On one hand I was totally engrossed with this series. All five books had me captivated by the world that was built and the characters that were attempting to survive/destroy it. On the other hand, there were parts of the writing that I found really annoying. So basically for me it is somewhat of a love hate relationship. The things I DIDN'T like:- Mac asked herself SO many questions throughout the book. Sometimes paragraphs of questions at a time. This is an example from Darkfever but trust me you can find countless examples in any of the books:"What if the Fae was lying and was actually an Unseelie, working to free more of his brethren to prey upon my world? And if it was telling the truth, why did the Seelie Queen want the book containing "the deadliest of all magic"? What did Aoibheal plan to do with it, and how had this highly sought-after book gotten lost in the first place? Who could I trust? Where could I turn? Had Alina known any of what I was learning? Had she been to McCabe's and Malluce's? What had happened to her when she'd first arrived in Dublin all those months ago?"and believe it or not it keeps going from there...- Second, some of the writing style just didn't work for me. For example, what 22 year old in this decade says NOT? Also, switching the narrator towards the end didn't bother me as much as the interruption with these "Daily Dani" flyers. I see what the author was trying to do but it just didn't work for me. It felt awkward.- Finally, the ending. I took issue with the way the series ended. Particularly that Mac suddenly has an epiphany that the old hunter could kill the child. Where did this come from? What made her feel like the hunter had the power to kill him when nothing else could? When the hunter killed Darroc earlier you were given the impression it was the book, not the hunter, who killed him. And to be honest I thought the ending would have been much better if Barron's child had been left alive. Then we would have found out if Barron truly would have loved Mac even though he didn't get what he wanted. It was a little too convenient for me after all the turmoil of whether his motives were selfish or not. And last but not least, it ends with Barrons grilling steaks on the BBQ like a suburban husband? BARRONS. Really? I just couldn't picture Barrons taking that role for anyone. So overall the ending was adequate but could have been so much better.Anyway, I know I went into more detail about what I didn't like but somehow that is always easier for me to articulate. However despite all the little annoyances I had with the book, I had to give it four stars. Mainly because any book that can pull me in, leave me thinking about it and feeling a little sad when it was over, deserves a higher rating. It was certainly an entertaining and thrilling ride.
Review by Tinkerbell4726
16/06/2015
This can't be the end??!?! I swear I have more questions than answers but instead of being irritated it just makes me want to read more Fever books. Ms. Moning has created characters that I cannot even begin to describe. I LOVE JZB, whatever he is, and the progression of Mac's character is wild ride.