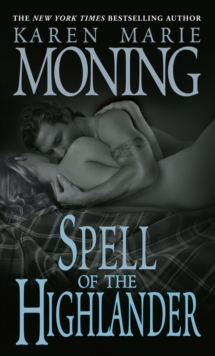 Spell of the Highlander
Paperback
Information
Format: Paperback
Pages: 416 pages
Publisher: Bantam Doubleday Dell Publishing Group Inc
Publication Date: 30/05/2006
Category: Historical romance
ISBN: 9780440240976
Other Formats
eAudiobook MP3 from £13.49
Free Home Delivery
on all orders
Pick up orders
from local bookshops
Reviews
Showing 1 - 5 of 13 reviews.
Previous | Next
Review by wyvernfriend
16/06/2015
Cian MacKeltar was trapped in a mirror centuries ago (and some of his descriptions of the space behind the mirror are the best parts of the book) and the mirror ends up with Jessie St James who releases him and then rescues him. After that it does follow some predictable routes, particularly when you realise that he's a very alpha male.I did have some quibbles (particularly when the Druid talks about marriage) but it was fairly entertaining but not a keeper.
Review by blingtastic
16/06/2015
It would be unfair to say it was a bad book, but it pales in comparison to books like "The Dark Highlander" or, really, any of the author's previous titles. The heroine has become silly to say the least - juvenile, despite being apparently intelligent, she irritates rather than entertains.
Review by deep220
16/06/2015
Karen Marie Moning is one of my favorite romance writers. This series is what opened me up to time travel and the idea of paranormal romance. It's probably because of this that is holds such a special place in my heart. I have read and reread this series countless times and still am never disappointed.
Review by ZEEK319
16/06/2015
Although I know many love the entirety of Moning's Highlander series, I found them to be hit or miss. A frequent reread for me, Spell of the Highlander, the final in the series before the author took the series in a whole other direction, definitely falls in the "hit" category.The story essentially begins when our heroine accepts a delivery for an unusual artifact while at work. Assisting a professor while working toward her PhD, Jessi St. James's curiosity gets the best of her- especially after the deliveryman forces her to help him uncrate the item before he leaves-visual verification needed.The artifact, a mirror with ancient runes inscribed around it, cannot be as old as it seems- mirrors with that much clarity just weren't around until the last century or so. But when a mysterious man enters the room demanding the mirror and threatening her life, Jessi finds herself defending it. Suddenly, a voice is heard demanding she release a man who happens to be trapped inside the mirror- a man held there for a very, very long time. Certain she's dreaming, she plays along and speaks the words that will release one Cian MacKeltar from the dark magic that holds him imprisoned within the mirror. (Yes, that would be the 9th century ancestor of the infamous Mackeltar clan who populate the rest of Moning's highlander series!)He, of course, rescues her from the sinister character threatening her life, but not before Jessi makes her attraction to the sexy, ancient highlander very obvious- it's a dream after all, why not taste the handsomest, most masculine man she had ever laid eyes upon?All too soon, she realizes he is indeed not a figment of her imagination and that her life is in very real danger. Cian convinces her she must return him- and the mirror- to his homeland in Scotland so he can prepare properly for the final battle that will have to take place between he and the man who imprisoned him. While there, they meet up with Drustan & Daegus (Kiss of the Highlander & The Dark Highlander) and their wives, and convince his descendants to assist them on their quest to release Cian from his curse.Of course Jessi & Cian fall in love in the process, a love Jessi thought would keep him by her side, but Jessi has no idea how far Cian will go to be set free- until she sees him about to give up his life.Seductive and intensely romantic this story goes right to the heart. I found it to be the most romantic of the series- and the most sensual. I highly recommend it, even as a standalone, because once you've turned the last page, you'll find it's not enough and you'll want to go back and read about the rest of the noble, strong MacKeltar's Moning has created and just who are these fae wreaking havoc on their lives!As I've mentioned, I re-read this one quite often, though I have no idea why I've never reviewed it before. If you like enticing romance mixed with time travel magic- you can't go wrong with Moning's Highlander series.5 out of 5 form me!
Review by AmaraDevonte
16/06/2015
I love these highlanders. Although this one wasn't my favorite in the series, these alpha highlanders never fail to make me laugh. This book was no different. I was reading this on while on a plane at 5:30am,hoping to avoid conversation with other passengers. That only worked until I started laughing…out loud. Seriously. When Jessi frees Cian, convinced the beautiful man is a dream, sidles up behind him, figures "why not, it's my dream" and licks him, I laughed so hard I almost dropped my book. As usual, Karen Marie Moning writes a great alpha highlander. Cian is a ninth century alpha male who definitely looks, thinks and behaves like one. I love all of the highlanders in this series. I hope she writes more of them.