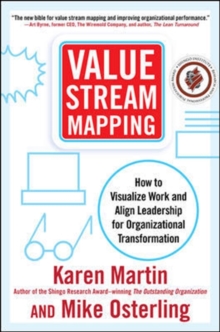 Value Stream Mapping: How to Visualize Work and Align Leadership for Organizational Transformation
Hardback
Description
Winner of The Shingo Research and Professional Publication Award!Align your leadership team to deliver the highest possible value to your customersToo many organizations today suffer from silo-centric behavior and intra-organizational conflict.
Yet most don't understand what's holding them back from achieving outstanding performance. Value stream mapping--an essential but underusedmethodology--is a proven approach to help you visualize and resolve disconnects, redundancies, and gaps in your value delivery system.
More than merely a tool to eliminateoperational waste, value stream mapping is a highly effective means to transform leadership thinking, define strategy and priorities, and create customer-centric work flow. In this detailed guide, business performance improvement experts Karen Martin and Mike Osterling present a practical way to deeply understand how work gets done--in any environment--and how to design improvedwork systems. You'll learn how to:Prepare and engage your leadership team in the transformation processGain a deep understanding about your current work systems and the related barriers to delivering valueDesign a future state that enables outstanding performance on all frontsAdopt the new design and lay the foundation for continued improvementWhether you are a novice, an experienced improvement practitioner, or a leader, Value Stream Mapping will help you design and operate your business more effectively. And if your organization already uses value stream mapping, this book will help you improve yourtransformation efforts. In today's rapid-fire business environment, there are too many problems to be solved and too many opportunities to be leveraged to operate without a highly effective means for accomplishing the important work to be done.Value stream mapping is the missing link in business management and, properly executed, has the power to address many business woes. PRAISE FOR VALUE STREAM MAPPING"Value stream mapping has evolved from its roots as a tool used by geeks to reimagine and reconfigure manufacturing operations to a process to enable deep organizational intervention and transformation.
With Value Stream Mapping, Karen Martin and MikeOsterling provide an outstanding guide for practitioners engaged in the challenging work of improving the horizontal flow of value across organizations." -- John Shook, Chairman and CEO, Lean Enterprise Institute, and author, Learning to See"Despite decades of viewing value stream mapping as the core tool of Lean transformations, there is still confusion.
Karen and Mike put mapping in its proper perspective as a methodology for getting high-performing teams to see waste, share a future state vision, and build meaningful actions that are carried out with passion and purpose." -- Jeffrey Liker, author, The Toyota Way"In Value Stream Mapping, Karen and Mike not only provide a great how-to book for transforming value streams, they also demonstrate the benefits that taking a holistic view can have on an organization's culture and commitment to customer value.
There is something to learn for the novice and expert on every page." -- Jeff Chester, Chief Revenue Officer & Senior Vice President, Availity"Martin and Osterling have written an excellent book that shows you how to do value stream mapping and do it right.
Follow their advice and your organization will get the profoundly radical change required to better serve your customers and create unprecedented profits and agility." -- Brian Maskell , author, Practical Lean Accounting"VSM is often misunderstood and underutilized.
Strategically, it can be a Rosetta Stone to help bring disparate organizational silos together and a catalyst for stimulating and prioritizing enterprise-wide transformation.
Karen and Mike have produced anotherterrific guide. Read it, practice it, share it, teach it." -- Steve Bell , author, Run Grow Transform"Value Stream Mapping is well worth picking up.
It's a straightforward user's guide to constructing current-state and designing future-state value stream maps that help you visualize and improve your efforts to flow value to your customer." -- Matthew May, author of The Laws of Subtraction
Free Home Delivery
on all orders
Pick up orders
from local bookshops