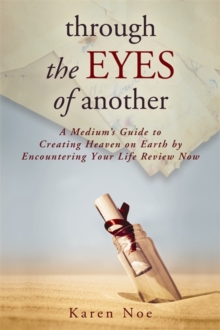 Through the Eyes of Another : A Medium's Guide to Creating Heaven on Earth by Encountering Your Life Review Now
Paperback / softback
Description
As a psychic medium, Karen Noe often receives messages of regret - deceased loved ones communicate that they're now able to see that they should have said or done things differently when they were still on Earth.
In Through the Eyes of Another, Karen shows that you don't have to die to go through your life review.
You can go through it now... before it's too late. Karen explains how writing different types of letters can help you see the 'bigger picture' of the way you're affecting those in your path.
She takes you on a personal journey of how her life was transformed after she wrote these types of letters to her loved ones, and then goes on to demonstrate how you can do the same. By seeing everything through the eyes of others, you will learn how to:* Heal your relationships* Love and honour yourself* Forgive your living and deceased loved ones* See more positive aspects in those around you* Understand more fully why others do certain things* Become more compassionate. As an added bonus, Karen shares stories from her favorite readings to answer some of the most common questions people have concerning the afterlife.
Free Home Delivery
on all orders
Pick up orders
from local bookshops