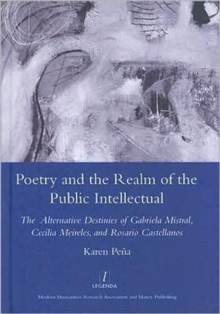 Poetry and the Realm of the Public Intellectual : The Alternative Destinies of Gabriela Mistral, Cecilia Meireles, and Rosario Castellanos
Hardback
Description
Gabriela Mistral, Cecilia Meireles, and Rosario Castellanos were three of the most important Latin American women writers of the 20th century.
Prolific, contentious, and widely read and discussed from Spanish America to Brazil, they pushed the boundaries of what it meant to be women poets from the 1920s to the 1970s.
Karen Pena explores how these three writers used poetry to oppose patriarchal discourse on topics ranging from marginalised peoples to issues on gender and sexuality.
Poetry was a means for them to redefine their own feminised space, however difficult or odd it could turn out to be.
In this study, we see how Gabriela Mistral travels to Mexico and finds the countryside a way to declare her own queer identity; many years later we find her re-imagining a frightening feminine space where she contests the terrible fate of Greek heroines.
In Cecilia Meireles, we discover a writer at odds with her femininity, who declares herself androgynous.
Like Mistral, she too travelled extensively, and we see her arguing against the wealth of capitalism and industrialisation when she travels to the United States in 1940. Rosario Castellanos straightforwardly argues for women's procreative rights in almost all of her poetry. And in an illuminating re-reading of Mistral, Castellanos allows the shadow of her predecessor to vocalise the tragedies of the inability to control woman's reproductive choices.
Free Home Delivery
on all orders
Pick up orders
from local bookshops