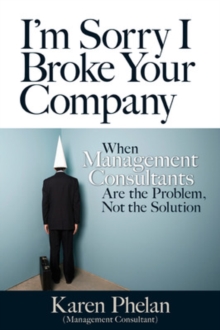 I'm Sorry I Broke Your Company: When Management Consultants Are the Problem, Not the Solution
Paperback / softback
Description
Karen Phelan is really sorry - no, she really is. She had the best of intentions and training in business systems, performance management and all the latest theories and best practices.
At companies like Deloitte, Pfizer, J&J and countless consulting clients, she did her best do business by the numbers--the only problem is that businesses are run by people, not mathematical formulas.
She and other consultants may have "broken" your company, but she's eager to repair the damage and make amends.
Luckily, with decades of experience and pure common sense, her book is the perfect antidote to years of management malpractice. Phelan focuses on how management gurus have fouled up the "people side" of companies - balanced scorecards, key performance indicators, process reengineering and dozens of other management fads are reduced to so much snake oil and bunkum under her withering gaze.
With a mix of cleared-eyed business analysis, "in the trenches" stories, and hard-won lessons, this book is impossible to put down and impossible to ignore. Phelan covers the gamut of strategy development, HR, metrics, leadership competencies, and just plain managing people.
She explains in gory detail why outside consultants are almost always the last people you should ask to improve your business.
She also explains why the most important ingredient in business management is often in the shortest supply: empathy.
In the tradition of classics like Up the Organization and Managers, Not MBA's, Phelan provides a breath of fresh air. In parting, however, Phelan allows that consultants (like her!) do sometimes have their place - she provides a much-needed playbook that lays out the proper vocation of consulting and tools for managers to proceed with caution.
Other Formats
PDF from £17.47
EPUB from £16.76
Free Home Delivery
on all orders
Pick up orders
from local bookshops
Also by Karen Phelan