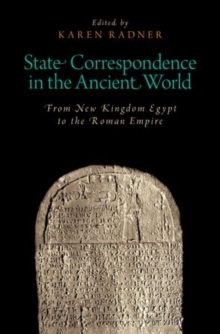 State Correspondence in the Ancient World : From New Kingdom Egypt to the Roman Empire
Hardback
Description
This book introduces the reader to the state correspondences of centralized states and empires of the Mediterranean and the Middle East from the 15th century BC to the 6th century AD, and analyses their role in ensuring the success and stability of these geographically extensive state systems.
Letters play an important role in the cohesion of early empires, by enabling reliable and confidential long-distance communication and by facilitating the successful delegation of power from the central administration to the provinces - challenges that in the absence of major technological advances remain constants of government throughout this long period.
State Correspondence in the Ancient World brings together primary sources from New Kingdom Egypt, the Hittite kingdom, theAssyrian, Neo-Babylonian and Achaemenid empires, the Hellenistic world and the Imperium Romanum.
This study's goals are twofold: Firstly, to describe the available material and its original context and transmission: what do we have and what don't we have - and why? And, secondly, to highlight thesecorrespondences' role in maintaining empires, using a comparative approach in order to draw out similarities and differences.
The volume is an edited collection of nine chapters written by established scholars with first-hand expertise in working with the source materials: papyri, clay tablets, inscriptions and law codices written in Akkadian (Assyrian and Babylonian), Aramaic, Egyptian, Greek, Hittite and Latin.
This unique collection will be enormously useful to students and scholars of ancient Egyptian, Near Eastern, and Mediterranean history.
Information
Format: Hardback
Pages: 320 pages, 53 illus.
Publisher: Oxford University Press Inc
Publication Date: 19/02/2014
Category: Ancient history: to c 500 CE
ISBN: 9780199354771
Free Home Delivery
on all orders
Pick up orders
from local bookshops
Also in the Oxford Studies in Early Empires series | View all