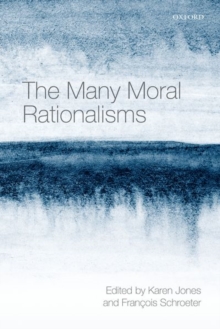 The Many Moral Rationalisms
Hardback
Description
Moral rationalism takes human reason and human rationality to be the key elements in an explanation of the nature of morality, moral judgment, and moral knowledge.
This volume explores the resources of this rich philosophical tradition.
Thirteen original essays, framed by the editors' introduction, critically examine the four core theses of moral rationalism: (i) the psychological thesis that reason is the source of moral judgment, (ii) the metaphysical thesis thatmoral requirements are constituted by the deliverances of practical reason, (iii) the epistemological thesis that moral requirements are knowable a priori, and (iv) the normative thesis that moral requirements entail valid reasons for action.
The five essays in Part I ('Normativity') offercontemporary defences or reconstructions of Kant's attempt to ground the normative thesis, that moral requirements entail valid reasons for action, in the nature of practical reason and practical rationality.
The four essays in Part II ('Epistemology & Meaning') consider the viability of claims to a priori moral knowledge.
The authors of all four essays are sympathetic to a realist moral metaphysics, and thus forgo the straightforward constructivist road to apriority. The four essays inPart III ('Psychology') each grapple with the implications for rationalism of the role of emotions and unconscious processes in moral judgement and action.
Together the essays demonstrate that moral rationalism identifies not a single philosophical position but rather a family of philosophical positions,which resemble traditional rationalism, as exemplified by Kant, to varying degrees.
Information
Format: Hardback
Pages: 320 pages
Publisher: Oxford University Press
Publication Date: 26/07/2018
ISBN: 9780198797074