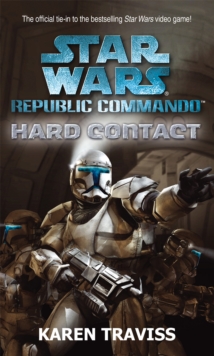 Star Wars Republic Commando: Hard Contact : Hard Contact
Paperback
Description
As the Clone Wars rage, victory or defeat lies in the hands of elite squads who take on the toughest assignments in the galaxy ...On a mission to sabotage a chemical weapon research facility on a Separatist-held planet, four clone troopers operate under the very noses of their enemies.
The commandos are outnumbered and outgunned, deep behind enemy lines with no backup - and working with strangers instead of trusted team-mates.
Matters don't improve when Darman, the squad's demolitions expert, gets separated from the others during planetfall.
Even Darman's apparent good luck in meeting an inexperienced Padawan vanishes once Etain admits to her woeful inexperience. For the separated clone commandos and stranded Jedi, a long, dangerous journey lies ahead, through hostile territory brimming with Trandoshan slavers, Separatists, and suspicious natives.
A single misstep could mean discovery ...and death. It's a virtual suicide mission for anyone - anyone except the Republic Commandos.
Information
Format: Paperback
Pages: 304 pages
Publisher: Little, Brown Book Group
Publication Date: 06/04/2006
Category: Space opera
ISBN: 9781841495248
Free Home Delivery
on all orders
Pick up orders
from local bookshops
Reviews
Showing 1 - 2 of 2 reviews.
Review by SimonW11
16/06/2015
I bought this after reading various impassioned remarks by Karen Traviss' saying she put put just as much if not more effort into SW books aas she did into her own work. That working in anothers universe had presented significant challenges as to her a writer and she she had not let the setting stunt hermoral/philososphical arguments. I am a bit of a media tie in snob but I do recognise lots of good authors have written them over the years and Ms Traviss is definately a good author.So I gave it a go. I have only seen the first SW filmand that was a long time ago now. I dismissed it as derivative space opera aimed at 12 year olds. So I found myself sadly lacking in background knowledge, What is a padawar? Apprentice? Assistant? Who are the Sith? Baddies apparently. Nothing that threw me though, Just the feeling you get joining a derivative Space Opera half way through. As promised The Jedi's valuing of expediency over morality is well illustrated. As is Karen Traviss frustraation at having to write about Cammando's who can't wear cammo. but ultimately the view point changes cannot disguise the linearity of the plot or the forgetabillity of the characters.
Review by Ging
16/06/2015
As a gamer, it's delightful to see Lucasarts using one of their better Star Wars titles of recent time to create a number of novels. Hard Contact doesn't feature the same characters as the game, but that doesn't stop it being an excellent action story.It provides a good insight into how the soldiers of the "Grand Army" are viewed by others and each other, it also manages to avoid the trap of the Star Wars universe of focusing too heavily on the Jedi.Taking place before Palpatine comes to power, it follows a squad of clone commandos who are thrown together and given a mission of utmost importance. This provides for plenty of character development, which while slightly clumsy at times does make for a pleasant change from a lot of video game novels.A worthwhile addition to any Star Wars fans collection!