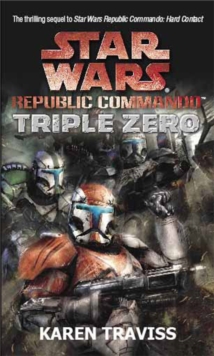 Star Wars Republic Commando: Triple Zero
Paperback
Description
Star Wars Republic Commando: Triple Zero - the sequel to Star Wars Republic Commando: Hard Contact - is set a year after the battle of Geonosis, and follows the continuing missions of Omega Squad.
As the Clone Wars casualties mount, the commandos find themselves deployed on increasingly dangerous missions that take them beyond the battlefield and further into sabotage and intelligence operations in the heart of Separatist territory.
Newly-promoted Jedi Generals Etain Tur-Mukan and Bardan Jusik are also catapulted into front line combat roles and find themselves identifying strongly with the clone soldiers under their command, who turn out to be anything but predictable cannon fodder.
Then Omega Squad survives a close brush with disaster to end up in the most potentially dangerous hot spot in the galaxy.
Information
Format: Paperback
Pages: 416 pages
Publisher: Little, Brown Book Group
Publication Date: 04/05/2006
Category: Space opera
ISBN: 9781841495255
Free Home Delivery
on all orders
Pick up orders
from local bookshops
Reviews
Showing 1 - 1 of 1 reviews.
Review by Shimmin
16/06/2015
I had a reasonable time with the first Traviss book a couple of years back, and have had this sitting around for a while, so I finally got round to it. It was a perfectly serviceable Star Wars tie-in novel, and Traviss did a decent job of humanising and giving personality to the clones.In the end though, I stopped partway through, just as the main plot was turning up. It wasn't that there was anything particular wrong with the book; but I started to feel that to really get the most from the book, and see how things panned out, I'd have to do a lot more reading. Not only is the book part of a series, but it's tied into the whole Star Wars Extended Universe, and so probably contains all kinds of references I'm not getting. Basically I felt like to make the time I'd spend on this book worthwhile, I'd have to commit myself to the SWEU in general, and I just don't have either the time or the enthusiasm to do that. There's too many other things I want to read, and while I enjoyed Star Wars, I'm not passionate about it. So I resigned myself to not finishing it and moved on.I've probably missed out on some good stuff, but it's just not a book I feel the need to read right now.