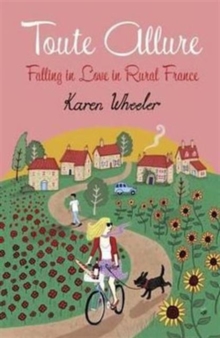 Toute Allure : Falling in Love in Rural France
Paperback
Description
There is so much to look forward to in the months ahead - to lengthening evenings, bike rides past fields of sunflowers or wild meadows of bluebells and poppies (just like the seventies Flake ad) and several months of fetes, vide greniers (car boot sales) and barbecues in friends' gardens. And I cannot wait to get back to see if Andy Lawton has called...After reaching the heights as a successful fashion editor, Karen said goodbye to all that and set about renovating a run-down house in rural Poitou-Charentes, in central western France, and living a simpler life.
Her idyll is almost complete when she is blissfully ensconced in her fully plumbed, tiled, floored and 'warm as the hug of a pashmina' Maison Coquelicot - until, that is, a gang of macho Portuguese builders, a procession of Brits behaving badly and the ghosts of boyfriends past begin to arrive on her doorstep.
Karen soon finds her (dancing) feet in the small rural community when she discovers the key to acceptance is le danse country. And after a few shuffles and twirls she meets the love of her life - he has dark, shaggy hair, four paws and a wet nose...
Information
Format: Paperback
Pages: 320 pages
Publisher: Summersdale Publishers
Publication Date: 02/08/2010
Category: Travel writing
ISBN: 9781849530668
Free Home Delivery
on all orders
Pick up orders
from local bookshops
Reviews
Showing 1 - 2 of 2 reviews.
Review by mrn945
16/06/2015
This was the wonderful sequel to Tout Sweet! Following up on Ms. Wheeler's life in rural France, her home is finally complete and she is adjusting to life in the small town.Now that her house is done, she can start concentrating on her love life. In the previous novel, she had a number of disappointments, but things were looking up towards the end. This is real life though, and nothing ever happens the way we think it will. This is not to say that Ms. Wheeler is sitting around pining for a lover. Not at all, she gets out there and learns to dance!Now, I was raised in the Prairies, so I grew up on Country music. I can't say that I ever felt the need to learn line dancing though, and the fact that it's such a trend in France frightens me a little bit. Nonetheless, it was interesting to read about her adventures as an amateur line dancer.Like Ms. Wheeler tells us, life happens when you stop waiting for it to happen. The novel has a happy ending, which I always love. It was as bright, self-depreciating, and clever as her first memoir. While I enjoyed the discussion about renovating her house more than line-dancing, this was still a great summer read. I absolutely recommend this book!
Review by LyzzyBee
16/06/2015
(BookCrossing 07 July 2012)Promoted up the TBR so I could take BookCrossing books on holiday and leave them there. Memoir of life in a French village, centering around men, line-dancing expats and a small black dog. Obviously a sequel (to Tout Sweet), it would be ideal to read that first, but you pick things up, and it's a nice, long, satisfying read about her life and adventures, even if a bit man-obsessed. I have to admit that this was a slightly odd read on a Scottish holiday, as I kept thinking we were in France (and I read another book set in France, too!).