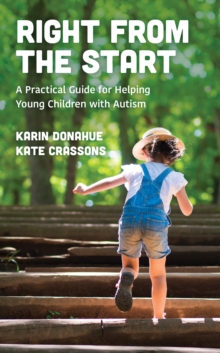 Right from the Start : A Practical Guide for Helping Young Children with Autism
Hardback
Description
This book argues that autistic children can be successful in early learning environments when teachers and parents understand the basics of autism, and when they have the tools to help these children expand their social and emotional skills.
For parents and teachers who may be unfamiliar with autism (especially in its milder, more elusive forms), Right from the Start is an indispensable resource explaining the best practices for teaching young children on the spectrum.
The book offers practical strategies that any teacher can easily incorporate into her daily routine-strategies that enrich the learning environment for neurotypical children as well.
Right from the Start is also a useful resource for parents who can practice many of the book's techniques at home to reinforce the development of key skills. While many educational and therapeutic approaches to autism emphasize changing children's behavior and gaining their compliance, this book foregrounds the importance of self-regulation.
This concept refers to a person's ability to cope with emotional highs and lows, to control his or her reactions to events, and to feel "just right." It is important that we help children learn to recognize, assess, and modulate their feelings because self-regulation is the foundation of all learning and social development.
Children need to be able to self-regulate to get through the day and to function well in the long term.
While all young children struggle with self-regulation, autistic children find it especially difficult to manage their strong feelings.
As a result of their neurodifferences, these children experience high levels of anxiety, sensitivity to stimuli in the environment, and difficulty understanding the nuances of social interaction.
These and other challenges compromise autistic children's ability to self-regulate. In addition to discussing the importance of self-regulation, the book addresses the following key aspects of autism: social interaction, play skills, and sensory processing issues.
After explaining why children experience challenges in these areas-and how such challenges impact self-regulation-the book offers techniques designed to help children improve their coping skills and overcome the various difficulties associated with autism.
The chapters outline concrete strategies for helping children increase their social awareness, manage their sensory needs, engage with teachers and peers, and develop the language necessary for communicating emotions.
With the tools in this book, parents, teachers, and administrators can help autistic children thrive from the first moment they ever set foot in a classroom.
Information
Format: Hardback
Pages: 200 pages, 5 Tables, unspecified; 1 Halftones, black and white
Publisher: Rowman & Littlefield
Publication Date: 28/11/2019
ISBN: 9781475844405