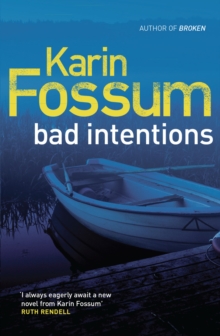 Description
Early one September, three friends spend the weekend at a remote cabin by Dead Water Lake.
With only a pale moon to light their way, they row across the water in the middle of the night.
But only two of them return, and they make a pact not to call for help until the following morning.
Inspector Sejer leads the investigation when the body is discovered.
He is troubled by the apparent suicide and has an overwhelming sense that the surviving pair has something to hide.
Weeks pass without further clues, and then in a nearby lake the body of a teenage boy floats to the surface.
Information
Format: Paperback
Pages: 192 pages
Publisher: Vintage Publishing
Publication Date: 01/07/2010
Category: Crime & mystery
ISBN: 9781846552922
Other Formats
Paperback from £6.65
EPUB from £3.99
Free Home Delivery
on all orders
Pick up orders
from local bookshops
Reviews
Showing 1 - 4 of 4 reviews.
Review by smik
16/06/2015
Once they were just little kids with skinny legs and pointy knees. How did they become so evil? Any second now Axel's green Mercedes will appear around the bend. While he waits, he chews his nails. He has bitten them right down. The tips of his fingers are red and sore. He thinks about everything that has happened and about how he is going to move on. He knows he has to make a choice…. But sometimes we need to face reality. And perhaps that is not fair, but nothing about this situation is fair. It's best to keep my mouth shut, he thinks, I'm protecting Axel and Reilly. They are my friends, and we're in this together for ever.Despite the fact that it is #7 in Fossum's Inspector Sejer series this is not a police procedural. It is rather a melancholic exploration of the way guilt can tunnel its way through the minds of those who feel it. Jon is the first to break and from then on the slippery slide is inevitable for the others. Who will crack next? And did they actually commit a crime?Sejer and his colleague Skarre seem almost to take a backseat in this novel, observers and prompters to the final undoing: He sat listening to the hum of the police station. He liked being a part of a big engine. He liked interrogating people, he liked spotting the lie when it came. A lie had its own pitch, and over many years he had learned to recognize it. He liked the moment when the confession finally spilled out, when all the cards were on the table and the course of events could be mapped and filed. The story is an exploration too of how sometimes the victims of crime can unexpectedly become allies who force the truth to come out.There is so much to think about in BAD INTENTIONS and it really came up to my expectations.
Review by gilly1944
16/06/2015
Another good story with plenty of atmosphere from Karin Fossum.
Review by lauri804
16/06/2015
My first of this series (Konrad Sejer)but he didn't have a very big role in the story. It didn't need him - the story grabbed my attention quickly and never let go. The very creepy events begin in Norway at a place called Dead Water Lake where three friends have gone for a weekend retreat. When there is an unexpected accident, more secrets about the friends' past are revealed. Inspector Sejer investigates the incident, but has a limited part. Some of his past is hinted at, making me wish I could read the previous books in the series. Really enjoyed this, even though it's dark and depressing. The characters were interesting and realistic.
Review by ecw0647
16/06/2015
Detectives Sejer and Skarra take a back seat psychologically in this riveting novel of three friends. Jon is severely depressed and Alex and Reilly decide to sign him out of the mental hospital for a trip to their cabin in the woods near Dead Water Lake. Jon takes anti-anxiety pills every hour and suffers from paranoia, but what does he have to fear from his friends? They decide to go out in the boat at night during a full moon and suddenly Jon stands and falls overboard. Neither Alex nor Reilly do anything, knowing that in his heavy boots and coat, and being unable to swim there is little they could accomplish anyway. Rather than have to answer a lot of questions, Alex decides it would be best if they simply said he wondered off in the morning and they have no idea where he might be. So they call for help the following morning. But why, wonders Detective Sajer, since Jon cold not swim, would his body wind up 100 meters from the shore?<br/><br/>When another body is discovered in a different lake nearby, Sajer and Skarra know there must be a connection but ultimately the dots are connected by the boys themselves. Not really a police procedural since Sejer and Skarra spend most of their time musing rather than investigating. The relationship between the mothers of the two boys seemed almost irrelevant to the story, but it remains an excellent examination of evil, conscience, and charisma.
Also in the Inspector Sejer series | View all