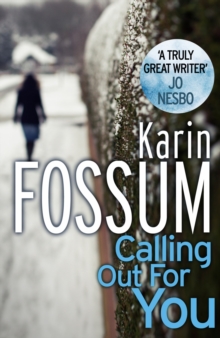 Calling Out for You
Paperback
Description
Gunder Jomann, a quiet, middle-aged man from a peaceful Norwegian community, thinks his life has been made complete when he returns from a trip to India a married man.
But on the day his Indian bride is due to join him, he is called to the hospital to his sister's bedside.
The local taxi driver sent instead to meet the bride at the airport returns without her.
Then the town is shocked by the news of an Indian woman found bludgeoned to death in a nearby meadow.
Inspector Sejer and his colleague Skarre head the murder inquiry, cross-examining the townsfolk and planting seeds of suspicion in a community which has always believed itself to be simple, safe and trusting.
For what can only have been an unpremeditated and motiveless act of violence, everyone is guilty until proven innocent.
Information
Format: Paperback
Pages: 400 pages
Publisher: Vintage Publishing
Publication Date: 07/11/2013
ISBN: 9780099565499
Free Home Delivery
on all orders
Pick up orders
from local bookshops
Reviews
Showing 1 - 2 of 2 reviews.
Review by lit_chick
16/06/2015
"A narrow headland stretched out to the left. He walked out to the point. Found the remains of a fire, prodded it with his foot. The water here was black, possibly deep. He could have hidden her. Many did, throwing the body in the water, burying it. But nothing had been done to hide this murder. / Nothing had been done to mislead them. The killer was disorganized, characterized by confusion and lack of control." (Ch 11)Norwegian Gunder Jomann lives in Elvestad, is fifty, a successful sales representative, quiet, humble, responsible – and lonely. Long curious about India and about the very beautiful Indian women he has seen in photos, he plans a trip to Mumbai with the hopeful idea that he might find a wife there. He does; he and Poona Bai are married in Mumbai; and he returns to Norway to prepare his home for his new bride. Once her immigration paperwork is processed, Poona Bai will join her husband in Norway. Unfortunately, on the day she arrives to her new country, Gunder is waylaid by a family emergency involving his sister. His new life is not to be. Poona Bai's savagely beaten, deceased body is found in close proximity to his home. Inspector Konrad Sejer and his colleague Jacob Skarre are called in to investigate. In Elvestad, as in any small town, there is no shortage of gossip and rumour, but what on earth could possibly have motivated such a crime? And the victim's body, found near impenetrable woods and a body of deep water, would have been so easy to conceal. The circumstances indicate a distracted, chaotic killer. The police arrest a suspect and get a confession – but readers be left wondering whether they have, in fact, got the right man. And Fossum plants a seed of intrigue that does not help dissolve the nagging questions.<b>Recommended:</b> Yes! Thoroughly enjoying this Scandi-crime series by Fossum. She combines a solid crime story with a solid police procedural. In each novel, we learn a little more about Sejer's private life, details I happily anticipate.
Review by flippinpages
27/08/2015
Would not recommend this book to anyone. A slow going read, but still a worthy one, until the ending. There is no ending. Everything in the story is left hanging. I don't need everything wrapped up nice and neat,life isn't like that. But this was like the author just stopped writing, literally. Mystery isn't solved, major issues one of the detectives was having, that seemed very central to the whole book was just forgotten about. I found that most unforgivable as it was as interesting as the murder, if not more so. I also did not care for the translation which is by Charlotte Barslund. Awkward sentences, poor use of english. Book two which is translated by Felicity David was much better. I would not read another by Barslund no matter how tempting the story.
Also in the Inspector Sejer series | View all