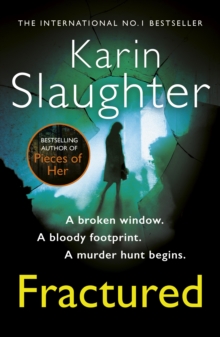 Fractured : (Will Trent Series Book 2)
Paperback
Description
The second Will Trent novel, from the No. 1 Bestseller. When Atlanta housewife Abigail Campano comes home unexpectedly one afternoon, she walks into a nightmare.
A broken window, a bloody footprint on the stairs and, most devastating of all, the horrifying sight of her teenage daughter lying dead on the landing, a man standing over her with a bloody knife.
The struggle which follows changes Abigail's life forever. When the local police make a misjudgement which not only threatens the investigation but places a young girl's life in danger, the case is handed over to Special Agent Will Trent of the Criminal Apprehension Team - paired with detective Faith Mitchell, a woman who resents him from their first meeting.
But in the relentless heat of a Georgia summer, Will and Faith realise that they must work together to find the brutal killer who has targeted one of Atlanta's wealthiest, most privileged communities - before it's too late...
Information
Format: Paperback
Pages: 528 pages
Publisher: Cornerstone
Publication Date: 01/03/2009
Category: Crime & mystery
ISBN: 9780099538592
Free Home Delivery
on all orders
Pick up orders
from local bookshops
Reviews
Showing 1 - 2 of 2 reviews.
Review by Elphaba71
16/06/2015
This is the first of Karin Slaughters novels I have read, & it won't be the last. This story gripped me from the first page..... Full of twists & turns, keeping you guessig right to the end. The two leading detectives, Will Trent & Faith Mitchell, were absolutely believable and highly readable. I think the story line is really good and again, believable as we follow the effects of the tragedy on the surrounding environments.
Review by kerryelizabeth
16/06/2015
A woman comes home to find a man with a knife hunched over what she believes to be the dead body of her teenage daughter. She did what she felt she had to do, and fought back, killing him. But all was not as it appeared.This is the first Karin Slaughter book I have read, and I loved every second of it. Slaughter's writing style reminds me a lot of Lisa Gardner's, which is a huge compliment from me because I adore her books also. The story was gripping and I genuinely couldn't figure out who did it. I'm not used to being unable to figure it out - usually my overly-analytical brain doesn't give up until it's done, but I think that the plot for this book was so enthralling that I couldn't think of anything at all, I was far too engrossed. Slaughter really seems to care a great deal about her characters. Throughout the book, I really felt like I got to know them and actually developed some deep feelings towards them. I was actually really saddened when I turned the last page; I just wanted to stay there with them. I'm already looking into the next book in the series because I feel like I can't stay away from my beloved Will Trent for much longer.I can't speak too much about the writing style. I simply wasn't paying attention to it. I know that she is considered to write quite vigorously and can be quite a tough read, but I didn't find this at all. I found this book to almost turn the pages itself. I was reading, and then before I knew it, I was at the end. It took me two days to read over 500 pages and I think that really speaks volumes for how much it captivated me and how easy to read I found this book. It was a sophisticated book, though, and that's for sure. Both the plot and characters were incredibly realistic. This is important to me (although I can't say why). The plot itself was captivating and really leaves you wanting more. Everything ties in nicely with everything else, and despite all loose ends being tied at the end, it wasn't perfect. And that lack of perfection at the ending really adds to the realism of the story. Slaughter writes as though she's just telling a tale of something that happened in real life, and I think that when writing a thriller, the scariest and most captivating of tales are those that we can see really happening to our neighbour, our father, ourselves. It is brilliant.Overall, I greatly enjoyed this book and am so excited to read the next in the series.
Also in the The Will Trent Series series | View all