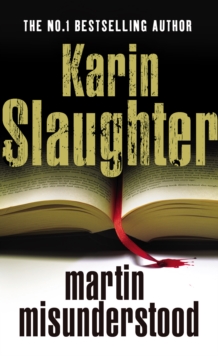 Martin Misunderstood
Paperback
Description
This is a darkly comic tale about Mr Less-Than-Average in an average world from the No. 1 Bestseller. Crime fiction obsessive Martin Reed is the proverbial butt of everyone's jokes.
Working as a glorified accountant at Southern Toilet Supply and still living with his cantankerous mother, he has become resigned to the world in which he lives - the school bullies now pick on him in the workplace, women still spurn him and his arch enemy is now his supervisor.
But then he arrives at work one morning to find the police on site.
A co-worker has been brutally murdered and her body abandoned in a ditch. And the overwhelming evidence points to Martin - especially when he can't or won't admit that he has an alibi.
When a second victim is found in the company bathroom, things really conspire against Martin.
The one bright star on his otherwise bleak horizon is the beautiful and sympathetic Detective Anther Albada, but even she's beginning to have her doubts about his innocence.
Could Martin be guilty? Or is he just misunderstood?
Information
Format: Paperback
Pages: 176 pages
Publisher: Cornerstone
Publication Date: 01/09/2008
Category: Crime & mystery
ISBN: 9780099525899
Other Formats
EPUB from £2.99
CD-Audio from £11.75
Free Home Delivery
on all orders
Pick up orders
from local bookshops
Reviews
Showing 1 - 5 of 5 reviews.
Review by devenish
16/06/2015
A complete change of style for Slaughter and I would imagine a disappointing one for most of her fans.Instead of the usual violent and bloody stories she usually writes,what we have here is a short black comedy.The main character is Martin Reed,a mother dominated loser,who works in the office of 'Southern Toilet Supply'. His life changes suddenly when he is accused of a murder followed closely by yet another.One of the police officers,Detective Anther Albada,becomes rather more interested in him than the case warrants.This is the ideal book to while away a few spare hours,but it does leave the reader curiously unsatisfied at the end.
Review by wulf
16/06/2015
This book is refreshingly short; at least you only waste about 150 pages of reading time compared to the longer works Slaughter normally delivers. I found the writing style very simple and wondered for a while if it was a new departure for the author, venturing into fiction for the teenage market. However, some explicitly detailed scenes of sex and violence left me doubting that conclusion.Perhaps it was a project to write a story without any attractive characters or a proper ending. If so, it succeeded in those goals but fails to rise to any loftier ambitions.
Review by jbrubacher
16/06/2015
Martin never grew out of being the awkward kid that everyone teased. Now an adult, living with his cruel mother, working with the people who used to torture him at school, he's a nobody until a co-worker is murdered and he comes under suspicion by a police detective just as awkward as he is.I couldn't *not* read this novella after seeing so many mixed reviews. From readers angry that it was so short to readers angry that it was so peculiar, it doesn't often inspire much praise. My impression is that the author had an idea for a character and wrote a story that amused her, and that's that. It isn't terrible, and neither is it great. The mystery is sound and satisfactorily explained. The characters are ridiculous (on purpose) and the ending is sweet enough that if you did connect with Martin or An at least you're happy for them (sort of.)It's an odd novella that's as well written as any odd short story. If she wrote another, I'd read that, too.
Review by v4758
16/06/2015
This is such a great book, makes you cry with delight and despair - it's got everything except cowboys and indians!!
Review by quiBee
27/01/2016
Very quick read. I enjoyed it to start with and then absurdity piled on absurdity such that I ended up not caring.