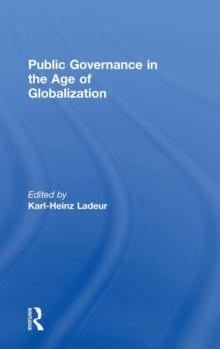 Public Governance in the Age of Globalization
Hardback
Description
Globalization and its relationship to public governance is one of the key issues of our time.
In this book, experts from a number of disciplines attempt to define what these two terms mean and, perhaps even more importantly, what they do not.
Taking as a starting point that globalization is neither the take-over of political power by multi-national 'stateless' enterprises, nor the chaotic unstructured process of dissolution of public order, the contributors suggest that what is occurring is more institutionalized than many critics would admit.
It is argued that there are important transnational and supra-national elements of a new public order, which remain beyond the traditional borders of the state, but not completely beyond the state as such.
Globalization, as opposed to former developments in the internationalization of the economy, is characterized by its transnational form, i.e. it is based on exchange processes which, to a greater or lesser degree, bypass both the state and the traditional international character of the world economy of the past.
Information
Format: Hardback
Pages: 350 pages
Publisher: Taylor & Francis Ltd
Publication Date: 28/05/2004
Category: Globalization
ISBN: 9780754623687