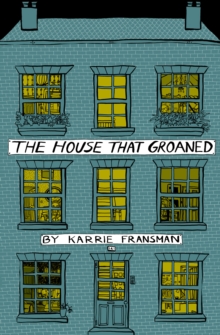 The House That Groaned
Paperback
Description
The House That Groaned is a graphic novel that explores bodies and the spaces they inhabit.
It is set in an old Victorian tenement housing six lonely individuals who could only have stepped out of the pages of a comic book.
There is the retoucher who cannot touch, a grandmother who literally blends into the background and a twenty-something bloke who's sexually attracted to diseased women.
Yet, as we learn the stories behind these extreme characters, it becomes apparent that we may share simlar issues - as individuals and as a society.
Information
Format: Paperback
Pages: 208 pages
Publisher: Vintage Publishing
Publication Date: 05/01/2012
Category: Comics and Graphic Novels
ISBN: 9780224086813
Free Home Delivery
on all orders
Pick up orders
from local bookshops
Reviews
Showing 1 - 1 of 1 reviews.
Review by dmarsh451
16/06/2015
I haven't read many graphic novels because I'm really not a fan, so I wasn't sure about weighing in on this. But then I read one that really moved me (see next review). I see now why it is such an exacting genre. <br/>There are words and there are pictures. Ideally, the words and the pictures work together to tell a story that just words, or just pictures won't tell. When I was young, I saw this lovely synergy come about in numerous beautifully inked superhero comics where characters came to life through the draughtsman's command of composition, shadow and body language. And the dialogue was there too as part of the whole design. I had no interest in stupid super heroes but they made me be interested. I enjoyed the drawing and lettering of love comics too. I get what Roy Lichtenstein saw in them. I also loved the visual plainsong of classic comics, so neatly drawn, the colours slightly browned, their stand-offish lettering filling enormous speech balloons. And don't get me started on Edward Gorey. Swoon!<br/>Unfortunately, 'The House That Groaned' has none of this magic. The artwork is too clunky for me to enjoy. It's all done in a series of monochrome blue-greens where the darks and lights fight each other rather than coalesce. It's like a book full of drawings of people by someone who hates to draw people. Most of the frames suffer from poor composition which makes them confusing and hard to 'read'. This is a form of storytelling that needs a cinematographer's editing eye to get to the kernel of every frame. Think of Vittorio Storaro's highly populated scenes in 'The Last Emperor' and how the eye is never confused because he composes the frame for clarity first, letting the beauty, tragedy, or ugliness follow. <br/>There's a scene in this book where schoolgirls tear off their clothes and dance around naked at boarding school. It's one of the better moments where the frames come together enough to sing a bit. And yet, I recently came across a similar sequence in 'Skippy Dies' by Paul Murray. No pictures, just a white page of words that make me feel the heat of the gym while my eyes water from the smell of hormones and Axe. In this book neither the pictures nor the words quite do this, jointly or severally. <br/><br/><br/>
Also by Karrie Fransman