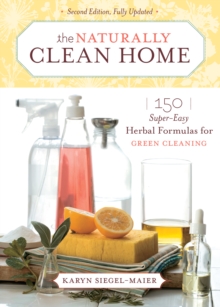 Naturally Clean Home
Paperback / softback
Description
Effective, nontoxic alternatives can be mixed up easily from kitchen staples - baking soda, vinegar, lemon juice, herbs, and borax - plus a handful of easy-to-find essential oils.
In the second edition of "The Naturally Clean Home", Karyn Siegel-Maier offers 150 all-natural recipes for cleaning every area of the home - from bathrooms to bedding, and from carpets to cabinetry.Siegel-Maier, a writer specializing in complementary therapies, presents quick recipes for cleansers that are nontoxic, biodegradable, and fresh smelling.
Formulas are so simple that even a novice can make them, yet they are as effective as the commercial options.
Best of all, these recipes are much less expensive than commercial cleaners; most can be made for mere pennies per use.
With the second edition of this popular book comes a host of hard-working new recipes, including Rosemary-Geranium Floor Wipes for electrostatic floor mops, Thyme to Make Your Own Carpet Steamer, Weekend Warrior Wicker Wash, Telephone Dirty Talk Tamer, Clear the Air Room Spritzer, and Lavender Lift Automatic Dishwasher Soap.Siegel-Maier also offers recipes for outdoor spaces - like Shoo-Fly Shake to keep flies away from your garden barbecue - and covers areas less commonly considered in the cleaning routine: houseplants, computer, even the septic tank!Whether scrubbing or scouring, degreasing or dusting, "The Naturally Clean Home" makes it fun to mix up chemical-free products that are easy on home and planet!
Information
Format: Paperback / softback
Pages: 224 pages, two colour illustrations throughout
Publisher: Storey Publishing LLC
Publication Date: 01/12/2008
Category: Lifetyle & personal style guides
ISBN: 9781603420853