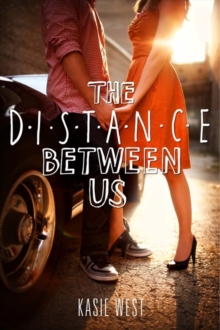 The Distance Between Us
Paperback
Description
Money can't buy a good first impression.Seventeen-year-old Caymen Meyers learned early that the rich are not to be trusted. And after years of studying them from behind the cash register of her mom's porcelain-doll shop, she has seen nothing to prove otherwise.
Enter Xander Spence-he's tall, handsome, and oozing rich.
Despite his charming ways and the fact that he seems to be one of the first people who actually gets her, she's smart enough to know his interest won't last. Because if there's one thing she's learned from her mother's warnings, it's that the rich have a short attention span.
But just when Xander's loyalty and attentiveness are about to convince Caymen that being rich isn't a character flaw, she finds out that money is a much bigger part of their relationship than she'd ever realized.
With so many obstacles standing in their way, can she close the distance between them?
Information
Format: Paperback
Pages: 320 pages
Publisher: HarperCollins Publishers Inc
Publication Date: 02/07/2013
Category: General
ISBN: 9780062235657
Free Home Delivery
on all orders
Pick up orders
from local bookshops
Reviews
Showing 1 - 5 of 14 reviews.
Previous | Next
Review by A_Reader_of_Fictions
16/06/2015
Kasie West debuted earlier this year, and she's pretty much one of my favorite authors already. She excels at characters and romances. Basically, her books make my heart oh so happy. The Distance Between Us has a little bit in common with Pivot Point, but is largely a departure from the much more serious tone of that series. The Distance Between Us is fluffy good times of the highest order.To figure out if you would enjoy The Distance Between Us, ask yourself if you like the following things: Pretty in Pink and The Gilmore Girls. If you answered yes to one or both, then you should probably make reading this book a priority. If you haven't seen them, then you should probably rectify that AND THEN read this book. If you don't like either one, well, GOOD DAY SIR.Caymen, whose name is never explained, which is to me the biggest flaw of the book, is my girl. Seriously, she is acerbic and sarcastic like you would not even believe. I imagine that some readers will be rubbed the wrong way by her attitude, but it was like coming home. People never know if she's serious or joking, because she always says things with a straight face. Also, she cannot resist answering a stupid question with an especially sarcastic response, and, oh, how I love her for it.Here's where things get quirky. Caymen works in a doll store, owned by her mother. Dolls and More barely pays the bills, and Caymen has been raised to hate the privileged, like the man who left her mother. As such, Caymen is disgusted when this obviously rich guy comes into the store and beckons to her, as he talks on the phone. His outfit alone would probably pay expenses for her and her mom for a month. He also happens to be kind of cute, but, ugh, so stuch up and rich.Of course, that's not all there is to it, because cute, rich boy (Xander) comes back. The relationship between these two is super sweet, especially because all of their problems coming together are really internal aside from her mom being iffy on her dating a rich boy. However, otherwise, the only obstacle really is Caymen's trust issues, which are pretty mighty. Xander definitely becomes a candidate for best book boyfriends, because he is so considerate, doesn't overreact, and apologizes when he's been out of line. There's a lot of bonding and banter here, and, though they do get serious, it feels real and not like forever love; maybe it will last and maybe it won't.Social classes and economic disparity are central to The Distance Between Us, which is pretty great. Caymen's poor, like shops at thrift stores because she has to poor. There's an incredibly adorable moment where Caymen takes Xander there because his clothes are too nice for a particular outing. The treatment of some of it's a bit idealized, since most of the discomfort about her economic status comes from her. However, Caymen does have some insulting friends, like the ones that show up in Pretty in Pink. Anyway, I really appreciate that West chose a heroine who's not in the upper or middle classes.On top of that, West, like in Pivot Point, does a fantastic job building out the supporting cast. There's a healthy female best friendship depicted between Caymen and Skye, who couldn't be more different, but love and support each other endlessly. Skye's boyfriend, Henry, who initially is kind of weird and didn't mesh with Caymen or me, turns out to be a sweetie and hilarious. Xander and Caymen's families both are well built as well. I love that West doesn't skimp out on the supporting cast. I love it so much.When you find yourself in need of a fluffy, happy-making read, look no further than The Distance Between Us. With well-developed characters, snappy dialogue and abundant humor, Kasie West's novels are must reads for me.
Review by Bookswithbite
16/06/2015
Once I started this story, I knew it was over for me. It was exactly what I needed.Characters: What really drew me to the story were the characters themselves. The main character Caymen is very down to earth and outspoken. I loved her outlook on life and how hard she work. Zander on the other hand has a few things that drew me to him too. Like his looks and funny comments. Even though both characters are different, they each have something that they can learn from one another.Plot: Plot wise this story had it all. Great secrets, love and a good build up to the ending. As the reader, it held me firmly in the story experiencing everything the characters are. I really love how the plot pointed out clearly the two worlds or point of views these characters each came from. The author did a great job in building it so that the reader can understand the distance.Distance: Do you know the most common fight between couples is money? Yes, money may be able to buy you everything yet it always leaves you lacking. No real love, no real friends and of course money changes you. You think about your status, your clothes, everything. This story painted an excellent world in which money and stats are who you are.The Distance Between Us is an excellent story that deeply affects the reader. Writing an excellent story driving towards a profound ending, The Distance Between Us is great!
Review by pnh002
16/06/2015
You guys, this book gave me ALL the feels. I felt so depressed about so many things, happy about so many things, and the love scenes gave me all the mushy feelings. Not gonna lie, I was a little worried about all the hype and the plot, but it exceeded my expectations. What I loved most about this book was the realism of it.The situation Caymen and Xander are in is a very real life situation. Especially in today's society. It breaks my heart that there are really people that have simple concerns about this kind of thing in their love life. As my mother drilled into me for as long as I can remember, "you can't help who you love. It shouldn't matter about gender, race, society class, or any of that stuff. All that matters is that you're happy." You may not have many things in common, but if that person makes you happy and you feel that they can continue that, why short yourself because of something that small. *gets off soapbox* Anyways, on to Xander. Gah, be still my heart! He is someone that thinks like me. Love whoever you want. And he did it all with no worries or regrets. He just let it happen. And he was so swoony the entire time. I found myself rooting for him since the very beginning. I have found a new book boyfriend for sure. I actually didn't like Caymen though. She had so many assumptions and what felt like regrets about everything. I honestly got a little tired of her dry humor too. Sometimes it wasn't exactly funny, just eye-roll worthy. But when you put the two of them together, I fell in love with Caymen and Xander. They made the cutest couple and their love felt so real. It didn't feel rushed or anything, it just went at the perfect pace. Especially with so many of the things they had telling them not to be together. Although there were some things that bothered me about this story, I know they were necessary. Without those things, the story would really be nonexistent. So with that being said, the flaws in this one helped it to become such a great read.
Review by DarkFaerieTales
16/06/2015
Review courtesy of Dark Faerie Tales.Quick & Dirty: Very entertaining contemporary filled with sarcastic humor, cute romance, and great characters. I would highly recommend this book to fans of YA contemporary.Opening Sentence: My eyes burn a hole in the page.The Review: Caymen Meyers is not your typical 17 year old. She lives with her mother on top of their doll shop where Caymen works constantly. They have always just got by and Caymen has had to live a very simple life. Her father abandoned her mother when he found out she was pregnant so Caymen has never even met the man. She knows that he comes from money and a baby just wasn't something he wanted at a young age. Caymen has lived a happy life, but a simple one. She is used to rich people because all of their customers at the shop usually have a lot of money, but she has never interacted with any of them outside of work. Then she meets Xander.Xander Spence goes to the doll shop to get a gift for his grandmother. Caymen can instantly tell he comes from money by his attitude and the way he dresses. Of course he is cute but Caymen knows that boys like that never date girls like her. But Xander keeps coming around and for some reason he likes Caymen's dry since of humor. The more time she spends with him the more she starts to fall for him, but her mother would never approve. They come from two very different worlds but sometimes their worlds collide and it can create something beautiful.I totally adored Caymen. She has this wonderful dry sense of humor and everything she says is filled with sarcasm. I thought she was hilarious and I honestly couldn't wait to read what came out of her mouth next. She has always been content in her life, but in a lot of ways she was bored. It was wonderful to see her grow and become a better rounded person. She is very loyal and has a really big heart. She is also a very honest person and she has no problem telling you exactly what she thinks. The more I got to know Caymen the more I liked her. She is an amazing character and I instantly connected with her.Xander is a total sweetheart. He has that total rich boy confidence going on, but Caymen keeps him on his feet. He never quite knows where he stands with her and its cute to see him drop hints that she totally misses. His relationship with his parents is rough; they want him to become someone that he's not sure he wants to be. He finds Caymen refreshing and she brings him a lot of happiness that he has never had before. I really loved Xander and I thought that his character was really well written.This was such a fun book. This was actually the first book I have ever read by Kasie West and her writing was amazing. The dialog was full of witty banter which was really entertaining, but there was also a lot of depth to the story. The characters were really engaging and well developed. The romance was sweet and full of heartwarming moments. There were a few twists in the plot that really surprised me, which I loved. Overall, this was a wonderful story that I really enjoyed. I would highly recommend this to anyone that enjoys YA contemporary, it is a must read.Notable Scene:He leans back and takes a bite of his muffin. "So, Ms. Observant, what was your first impression of me?""When you came into the store?""Yes."That's easy. "Arrogant.""Really? What made you think that?"Does that surprise him? "I thought it was my turn to ask a question?""What?""Isn't that how the game works? We each get a question?"He looks at me expectantly. I realize I have no question. Or maybe I have too many. Like why is he really here? When will he realize I don't play with his crowd? What exactly made him interested in the first place? … If that's what it is. "Can I go finish getting ready?""No. Okay my turn. What made me come off as arrogant?"I stare at the crease on the sleeve of his T-shirt-a clear indication it had been ironed. Who irons T-shirts? "You beckoned me," I say, remembering that first day.His brown eyes flash to mine. Even his eyes with their gold flecks remind me of his wealth. "I what?""You stay there. I'll be you." I walk to the far end of the stockroom and pretend to come in a door, holding a cell phone to my ear. I swagger a few steps, stop and stare at the wall, then hold up my hand and beckon him. I wait for him to laugh, but when I glance over he has a mortified look on his face."I may have exaggerated it just a bit." I say even though I didn't.FTC Advisory: Harper Teen provided me with a copy of The Distance Between Us. No goody bags, sponsorships, "material connections," or bribes were exchanged for my review.
Review by rubewrites
16/06/2015
Read this straight through in four hours. Fun story, quick read.m