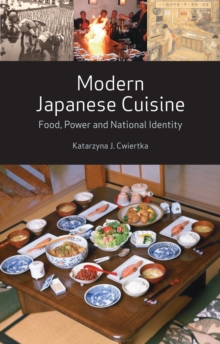 Modern Japanese Cuisine : Food, Power and National Identity
Hardback
Description
Over the last decade the popularity of Japanese food in the West has increased immeasurably, contributing to the continuing diversification of Western eating habits; but Japanese cuisine itself has evolved significantly since pre-modern times.
This book explores the origins of Japanese cuisine as we know it today, investigating the transformations and developments food culture in Japan has undergone since the late nineteenth century.
Among the key factors in the shift in Japanese eating habits were the dietary effects of imperialism, reforms in military catering and home cooking, wartime food management and the rise of urban gastronomy.
Japan's patchwork of diverse regional cuisines became homogenized over time and was replaced by a set of foods and practices with which the majority of Japanese today ardently identify.
This book demonstrates that Japanese cuisine as it is currently understood and valued, in spite of certain inevitable historical influences, is primarily a modern invention concocted in the midst of the turbulent events of the late nineteenth and the twentieth centuries.
Katarzyna J.Cwiertka is a recognized expert on the subject of Japanese cuisine and its modern history, and this book is a result of more than a decade of research. It also includes a section on the spread of Japanese food and restaurants in Western countries. "Modern Japanese Cuisine" will be of interest to the general reader interested in Japanese culture and society, as well as to a more specialized audience, such as scholars of Japan, anthropologists and food historians.
Information
Format: Hardback
Pages: 240 pages
Publisher: Reaktion Books
Publication Date: 01/10/2006
Category: National & regional cuisine
ISBN: 9781861892980
Free Home Delivery
on all orders
Pick up orders
from local bookshops
Reviews
Showing 1 - 1 of 1 reviews.
Review by tonreihe
16/06/2015
Katarzyna Cwiertka, lecturer in Japanese studies at Leiden University, presents in this book a history of the development of modern Japanese cuisine (i.e. from the Meiji revolution to the present day). She focuses on the social and political factors that affected the eating habits of the Japanese people, arguing that what is regarded as traditional Japanese cuisine is to a great extent a product of late-nineteenth and early-twentieth century imperial policies. She also argues that a great deal of what is regarded as properly Japanese cuisine is in fact of Western (European and American), Chinese, and Korean origin. Of especial interest is her documentation of the extensive role that military catering played in the creation of a homogeneous national cuisine. A postscript looks at the developments Japanese cuisine has undergone outside Japan. The book is clearly written and accessible to non-academics, with a bibliography that provides English-language sources whenever possible. This is an excellent book that should be of interest to anyone interested in Japanese cooking or Japanese culture.
Also by Katarzyna J. Cwiertka | View all