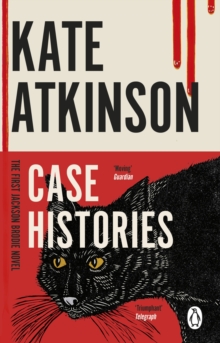 Case Histories : (Jackson Brodie)
Paperback
Description
Cambridge is sweltering, during an unusually hot summer.
To Jackson Brodie, former police inspector turned private investigator, the world consists of one accounting sheet - Lost on the left, Found on the right - and the two never seem to balance. Surrounded by death, intrigue and misfortune, his own life haunted by a family tragedy, Jackson attempts to unravel three disparate case histories and begins to realise that in spite of apparent diversity, everything is connected...
Information
Format: Paperback
Pages: 432 pages
Publisher: Transworld Publishers Ltd
Publication Date: 01/06/2005
ISBN: 9780552772433
Other Formats
EPUB from £4.99
CD-Audio from £13.75
Free Home Delivery
on all orders
Pick up orders
from local bookshops
Reviews
Showing 1 - 5 of 16 reviews.
Previous | Next
Review by Greatrakes
16/06/2015
My first Kate Atkinson and it won't be my last. This novel is really a series of episodes, some of which could almost be short stories. It's a crime novel, but nothing like the genre standard. It has murders, but they are all cold cases and slowly the plots and characters intersect. Jackson Brodie is the only link between <i>all</i> of the stories, a good man, with a cliche private detective life - divorced, unkempt and with a young daughter he has to haul around with him. All wonderfully written, I believed in all of the characters and they somehow all felt familiar, I suppose it is partly because I share a generation and a background with so many of them.Jackson appears in the latest Atkinson novel and I'm getting it soon.
Review by shirley8
16/06/2015
Loved this book,I like the detective Jackson Brodie and I also liked how each chapter came from a different person and how they all linked up at the end.
Review by Lman
16/06/2015
It would be wrong, I think, to pigeonhole <i> Case Histories</i> as a crime novel, even a great crime novel; it is a book not easily categorised, and rightly so. But it <i>is </i> a book easily read – an unexpected, remarkable wealth of words - a narrative which provides a delicately subtle, truly satisfying, thought-provoking scrutiny of a tiny slice of life.The book begins with three seemingly discrete vignettes, three individual crime scenarios - three case histories - which have delivered lasting, devastating trauma and tragedy to the affected participants; and which remain unsolved or unreconciled after many years. Due to recent events, from a sudden desire, or from pure impulse, those involved decide to seek answers not previously forthcoming; independently, and coincidently, each approach a private investigator, Jackson Brodie, to achieve what, on face value, appears near impossible. As the details emerge, as the stories unfold, as we follow this unruly, but innately decent man, his investigations slowly knit together the randomness and disparity of each case, until all are intertwined with the other; eventuating in plausible, convincing and credible juxtaposition!And yet, it is not the mysteries, nor their outcomes, which are the main strength of this novel. Despite the need to find the answers, despite the wish to produce a closure of sorts, it is the depth and detail of each character, so vividly etched, so superbly rendered, that delivers the mastery of this literary piece. Kate Atkinson supplies a cast of engaging, interesting players, fundamentally damaged to such an extent by earlier ordeals they now shape and colour their personalities; collectively exposing such a level of complex family drama that it resonates through the whole of the book and out into today's society. Very adroitly the author applies light, witty touches to desperate, heartbreaking situations until an elegant balance between comedy and tragedy is achieved, sustaining the intensity of the story-line and the reader's interest to the very end.I was absolutely captivated by this book: the utter simplicity of the interweaving of the individual circumstances, the rich and compelling plot devices and the gritty, beautifully-realised characters combined to provide, in my mind, an exceptionally well-crafted work. This author is a talent; a splendid novelist with an astute intelligence, and a writing style such that the story leaps off the page, directly into the reader's psyche, from the very first word – so well-written that, at the end, it immediately invokes a demand for more. Thankfully there is...
Review by samsheep
16/06/2015
Felt slightly nervous reading about lots of missing girls as I have a baby daughter but the horror is balanced out in the end. There is a lot of humour and humanity as well as crime/detective elements.
Review by joellalibrarything
16/06/2015
More moving than the average detective story. In fact better than the average detective story in many ways.
Also in the Jackson Brodie series | View all