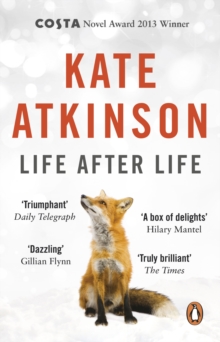 Life After Life
Paperback
Description
This is the winner of the costa novel award. What if you had the chance to live your life again and again, until you finally got it right?
During a snowstorm in England in 1910, a baby is born and dies before she can take her first breath.
During a snowstorm in England in 1910, the same baby is born and lives to tell the tale.
What if there were second chances? And third chances? In fact an infinite number of chances to live your life?
Would you eventually be able to save the world from its own inevitable destiny? And would you even want to? Life After Life follows Ursula Todd as she lives through the turbulent events of the last century again and again.
With wit and compassion, Kate Atkinson finds warmth even in life's bleakest moments, and shows an extraordinary ability to evoke the past.
Here she is at her most profound and inventive, in a novel that celebrates the best and worst of ourselves.
Information
Format: Paperback
Pages: 640 pages
Publisher: Transworld Publishers Ltd
Publication Date: 30/01/2014
ISBN: 9780552776639
Free Home Delivery
on all orders
Pick up orders
from local bookshops
Reviews
Showing 1 - 5 of 5 reviews.
Review by Agnesium
16/06/2015
I do agree with your review, what I find interesting is that you didn't feel sure about the ending. I thought about it over and over as well, and am still struggling whether I think the last endings are conjoined in some way (did she die killing the bastard or not? and if she did, how did she manage to save her brother? and if she didn't is that why her brother was saved?). What do you think?
Review by GingerCrinkle
16/06/2015
Maybe Ursula has one too many "lives", but I loved this book. Kate Atkinson has a really engaging style that hooks you in and keeps you interested. I found the "life" where Ursula was friends with Eva Braun a bit hard to contemplate. Generally though the pluses far outweigh the minuses. It made laugh (lots) but it's also made me cry. The scenes set during the Blitz were particularly thought provoking and challenging to read.
Review by rlangston
16/06/2015
A good read. I was expecting something like the Time Travellers Wife, but this book made less of the reincarnation and more of the ensemble cast of characters. Halfway through I thought that this was a shortcoming, and the book would have been the same without the reincarnation theme - but at the end, I realised that this allowed the different facets of each character to be explored and then brought to a conclusion.
Review by LARA335
16/06/2015
Clever structure, a sort of 'Sliding Doors' meets 'The Time Traveller's Wife' as Ursula relives her life over again with small decisions changing her life. Great detail of the war years. But Ursula's own lack of emotional engagement although epitomising the character of the war generation left me feeling rather disengaged.
Review by alexrichman
23/09/2015
A brilliant book. Smartly plotted, for the most part...although it does suffer from the Forest Gump problem of plonking our protagonist rather close to the centre of history. Several passages are just superb - the EM Forster upbringing, the Blitz years - and I can't wait to read more of Atkinson's work.