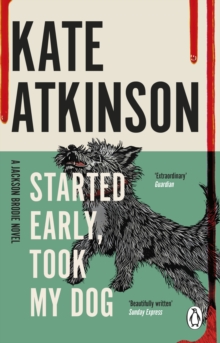 Started Early, Took My Dog : (Jackson Brodie)
Paperback
Description
A day like any other for security chief Tracy Waterhouse, until she makes a shocking impulse purchase. That one moment of madness is all it takes for Tracy's humdrum world to be turned upside down, the tedium of everyday life replaced by fear and danger at every turn. Witnesses to Tracy's outrageous exchange in the Merrion Centre in Leeds are Tilly, an elderly actress teetering on the brink of her own disaster, and Jackson Brodie, who has returned to his home county in search of someone else's roots. All three characters learn that the past is never history and that no good deed goes unpunished.
Information
Format: Paperback
Pages: 496 pages
Publisher: Transworld Publishers Ltd
Publication Date: 01/02/2011
ISBN: 9780552772464
Other Formats
CD-Audio from £13.45
EPUB from £4.99
Free Home Delivery
on all orders
Pick up orders
from local bookshops
Reviews
Showing 1 - 5 of 10 reviews.
Previous | Next
Review by AriadneAranea
16/06/2015
 Really excellent - the fourth novel featuring Jackson Brodie, and the best of them. It's complex, literate, grand and surprising, as Jackson unpicks the threads of a decades-old cover-up while another ex-police officer, Tracy Waterhouse, makes off with an illicit mystery child and wonders whether and how she can possibly get away with it. Just brilliant.
Review by phoebesmum
16/06/2015
Another outing for Jackson Brodie (and, indeed, his new-found dog), with the usual interweaving of numerous plots, some resolved satisfactorily, some not so much. Casts a very dim, though possibly not undeserved, light on '70s police methods. The dog survives, at least for this book; I wouldn't bet on its chances in further volumes.
Jackson Brodie has left Scotland, and returned to his native Yorkshire. Or rather, his unwilling search for the real roots of a New Zealand woman who was adopted as a child (and who hasn't accepted Jackson's 'retirement'), plus his haphazard attempt to trace his faithless and conning ex-wife Tessa, have brought him back there - to its towns, its glorious countryside, its ruined abbeys ... and its murky recent past. Walking through a park, he witnesses casual acts of cruelty towards a dog, leading him kidnap it with menaces towards its lager lout of an owner. For the remainder of the novel, Jackson is saddled with the "dog" of the title.Tracy Waterhouse, retired cop, single woman, and now unfulfilled security chief of a modern shopping centre, performs a rescue act even more daring, and even more out of character. These two events are simply the prelude to a chain of cause and effect that slowly unravels a 35-year-old murder mystery, uncovers some incidents that the Leeds police (or some at least), would prefer stay buried, and leads to the discovery of the true identity of various children that lie at the heart of the mystery.This is a superbly plotted, inimitably told tale - the latest in the short but welcome series featuring Kate Atkinson's rather luckless and accident-prone detective Jackson Brodie. It would spoil the intricately woven plot to reveal any more about the nature of the events at the heart of this book, but it is (sadly we understand) a worthy sign-off (but only for now?) of this most engaging of characters.It is a story of secrets that lie buried for too long, of the search for identity, of the use and abuse of 'women of the street', and the sturdy resilience of children in the face of brutally overwhelming odds. It dances around the terrible murders committed by the man known forever as the Yorkshire Ripper, and convincingly summons up the shape of urban and suburban life in the mid-1970s.As we have come to expect from Kate Atkinson, the narrative is vivid and engaging, the characters beautifully drawn, and the dialogue never less than natural. Her love of language, so eloquently displayed in her first three novels and short stories, is tempered a little in the Brodie books, but it is still there, and this is a very satisfying read. And not every last loose end is tied up - there is a hint that something is left open (not, I trust, a vain hope?) to pursue in a subsequent tale.
Review by booktwitcher
16/06/2015
A fast paced page turner. Loved it with the less than perfect but somehow lovable, Jackson Brodie as the returning hero. Again, as with all of the Brodie novels, thee are always two or more stories running together.
Review by Greatrakes
16/06/2015
This book is the opposite of the last book in the Jackson Brodie series, When Will There Be Good News was all width, this one is all length. There are a few flashbacks to the 1970s, but generally it's a road movie, a made for TV book.It also has too much Jackson Brodie in it, I like him as a hapless foil for other characters, but he is too much of a cartoon character in large doses. He is a sort of fantasy character, a Mills and Boon hero as redesigned for women who like their men to be bright but not too bright, macho but sensitive, and beaten unconscious at least twice in every novel.So anyway, prostitutes are murdered in the past and present, children are kidnapped past and present and an actress with dementia fell under a train.
Also in the Jackson Brodie series | View all