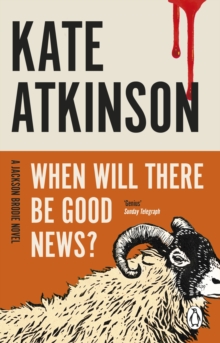 When Will There be Good News?
Paperback
Description
In rural Devon, six-year-old Joanna Mason witnesses an appalling crime.
Thirty years later the man convicted of the crime is released from prison.
In Edinburgh, sixteen-year-old Reggie works as a nanny for a G.P.
But Dr Hunter has gone missing and Reggie seems to be the only person who is worried.
Across town, Detective Chief Inspector Louise Monroe is also looking for a missing person, unaware that hurtling towards her is an old friend -- Jackson Brodie -- himself on a journey that becomes fatally interrupted.
Information
Format: Paperback
Pages: 480 pages
Publisher: Transworld Publishers Ltd
Publication Date: 01/01/2009
ISBN: 9780552772457
Other Formats
EPUB from £4.99
CD-Audio from £15.75
Free Home Delivery
on all orders
Pick up orders
from local bookshops
Reviews
Showing 1 - 5 of 15 reviews.
Previous | Next
Review by phoebesmum
16/06/2015
There are an awful lot of eggs in this pudding. Some might say too many. It includes, just by way of example, a family murder uncomfortably similar to the deaths of Lyn and Megan Russell, gangsters, kidnapping, extortion, more murder, a massive train crash, a honeytrap embezzlement, a homicidal ex-husband stalking his former family, yet more murder, arson, suicide, and I may have missed a murder or two – all, apart from the first event, taking place within the course of a few days and a few square miles. Oh, yes! And a cancer death, and an accidental drowning … It's a credit to Kate Atkinson that it never seems excessive or, worse, ridiculous; in fact, it all starts to feel uncomfortably plausible. This is partly because she's a good writer whose flow picks you up and carries you along without pause for question; part of it is because she creates interesting characters with whom you're happy to spend time (the ones who're still standing at the end, that is).
Review by riverwillow
16/06/2015
The first chapter of this book is harrowing reading and Atkinson does not spare her readers throughout the remainder of the novel as her character's stories overlap and interweave to an ending which is both surprising and appropriate. I've loved the other two Jackson Brodie books and he is on form here, 'The CD player contained one disc accidentally left over from the previous rental and Jackson wondered in what circumstances he would feel so desperate for the sound of another voice he would listen to Enya's.' Louise's story provides the perfect foil as once again she tries to get to the bottom of things, 'Go figure, Louise thought. Didn't it make sense that two of the most provoking people she could think of would somehow be together.' Fantastic.
Review by veronicay
16/06/2015
Another cracking good read from Kate Atkinson. I enjoyed her other two Jackson Brodie books but didn't think they were as good as Behind the Scenes as the Museum. This one is. It rattles along with her idiosyncatic combination of humour, murder and mayhem, crazy coincidences, identity seitches, and engaging characters. I felt the end fell a little bit flat after all the twists and turns earlier on, which had kept me furiously turning pages. A subplot about a murderous estranged husband seemed unnecessary and out of place, one sympathetic character was bumped off quite gratuitously, and I do wish she would be nicer to Louise and Jackson :) But apart from that, I loved it! Oh, and I hope we meet Reggie again.
Review by laphroaig
16/06/2015
A novel very much in-line with Kate Atkinson's previous work: it is terse, to the point and gripping with a twisting plot and sympathetic characters. It retains her typical grim humour, already displayed in 'Case Histories' and 'One Good Turn', and an overlapping set of characters, but in this novel there is a more sinister edge.Some other reviews did not like the ending. Personally, I found it thought-provoking although I have sympathy with those who were less enthusiastic. What is clear is readers will be unable to put down the book in order to get to the last page.
Review by dsc73277
16/06/2015
"When Will There be Good News" is the third in Kate Atkinson's series of books featuring the former private detective Jackson Brodie, among an array of unusual characters. It is crime fiction of a sort, but a very inventive sort.Some might quibble that there are a few too many coincidences that bring the main players together. However, I would suggest that whilst it is highly unplausible it nevertheless manages to avoid being ridiculous.There is a lot of drama in the final chapters, and a significant twist in Brodie's fortunes. Atkinson has certainly put this guy through a lot. In the second book he was attacked in the street and hospitalized, only to find himself and on an assault charge for fighting back; this time he is very nearly killed in a train crash, having accidentally boarded a train heading the wrong way on the East Coast Main Line.For me, though, the star of this book is sixteen year old Reggie (Regina), who is making a very good job of getting through life alone after the death of her mother in a hotel swimming pool. She manages to get embroiled in the aftermath of a train crash, the death of her old school-teacher and her dog, and the disappearance of her employer all in the space of twenty four hours. That's not to mention getting attacked following a break-in at her flat, which is later set alight, and subsequently being attacked again by her own brother having taken refuge in her late teacher's home. She remains remarkably positive through all of this, though perhaps unsurprisingly convinces herself that everyone around her ends up dead. I'd like to read more about this plucky teenager.Reggie's employer, Dr Hunter, was involved in a family tragedy at the even earlier age of six. Now, thirty years later, the release of the man who killed her mother, sister and baby brother threatens do destroy the successful life she has made for herself and her own baby boy. As it transpires, she is put in danger that originates much closer to home and ends up going to drastic lengths to survive and to protect her own child from being overshadowed by proximity to violent death.This is a really enjoyable read with a satisfying plot and plenty of reflections on mortality thrown in for good measure.