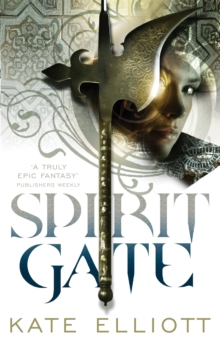 Description
For hundreds of years the Guardians ruled the Hundred, but these unearthly beings have faded from human sight and no longer exert their will on the world.
Only the reeves, patrolling from the skies, still represent the Guardians' power.
But there is a corruption in the land that not even they can control, and fanatics are devastating villages, towns, and cities, slaughtering all who oppose them. Outlanders Anji and Mai are fleeing their homeland with a company of dedicated warriors.
On reaching the Hundred, they form an alliance with Reeve Joss, and determine to stand against the devouring horde.
But, as region after region slips into chaos, a young woman sworn to the Goddess may be all that keeps them from annihilation ...A haunting tale of individuals swept up by the chaos of war, this is fantasy adventure at its best - rich in texture, filled with colour and excitement.
Information
Format: Paperback
Pages: 640 pages, map
Publisher: Little, Brown Book Group
Publication Date: 06/12/2007
Category: Fantasy
ISBN: 9781841492742
Free Home Delivery
on all orders
Pick up orders
from local bookshops
Reviews
Showing 1 - 2 of 2 reviews.
Review by cerievans1
16/06/2015
Arghhhhhhhhh. THE most frustrating book I have read this year (and it has taken the whole of July on holiday and a week of August to read this) and I still have 40 pages to go. Review will wait because things start to be getting more interesting but still this is far too long, ostensibly plotless, just one long road trip. Some good characters though and considering I am new to Fantasy books, not that painful. Just boring. Some of the writing is poor, some is good. For me some positives: I did not throw the book in the pool on holiday, Mai/Captain Anji/Joss are good characters. Irritants: gratuitous language/sex/ treatement of women, and I am not being prudish! This is not meant to be personal I just don't really like it.
Review by reading_fox
16/06/2015
I picked this up after an LT discussion around another book with the same name. This is the (slightly) more well known one. Enjoyable. Low fantasy, hence little out-right magic, but ghosts appear to a few characters and there's the chance that the ancient gods might be be-stirring themselves to take a hand in the fate of a country. We follow a few characters living different lives in different cultures and countries as the tides of war and politics eventually cast them together in a small town. The town is situated in the Hundred, a collection of provinces of shared rule. Abandoned by the gods and Guardians some years ago, they're left with only the reeves mounted on giant eagles to keep law and order. Few and far between failing in numbers their respect is further diminished when outlaws start a concerted campaign from the North. Meanwhile the captain of a troop of mercenaries on the run from politics pick up's a wife from one of the countries his nation had subjugated. Familiar with the marketplace customs of most of the world, despite being unaccustomed to the rigours of journeying she provides useful information in keeping the troop gainfully occupied on their flight north.Nothing really jumps out as special, but it's well written engaging and enjoyable in a fairly sensible world. The varying religious customs take a bit of getting used to, but it all comes together in the end. There is an slightly too obvious bias towards various earth cultures, but enough differences remain for it not to feel racist or pointedly attacking one culture. I will try the sequels sometime.
Also in the Crossroads series | View all