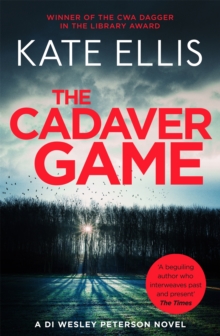 The Cadaver Game
Paperback
Description
When the decaying body of a murdered woman is discovered in a suburban house following an anonymous tip off, DI Wesley Peterson has problems establishing her identity.
But as he digs deeper, he has another more disturbing case to investigate - the naked bodies of two teenagers have been found with shotgun wounds at the foot of a cliff. Both cases become stranger when Wesley realises they are linked to a sinister manhunt, mirroring events from the time of the Napoleonic Wars.
Why did the teenage victims take part in an online game called Blood Hunt, which they were eventually persuaded to play for real?
Then a skeleton is found near the place where the dead teenagers were last seen alive and Wesley finally has to face a terrible truth ...and a hunt to the death.
Information
Format: Paperback
Pages: 384 pages
Publisher: Little, Brown Book Group
Publication Date: 02/08/2012
Category: Crime & mystery
ISBN: 9780749953775
Free Home Delivery
on all orders
Pick up orders
from local bookshops
Reviews
Showing 1 - 1 of 1 reviews.
Review by cathyskye
10/11/2015
If there is one thought I carried away from The Cadaver Game it's if the future lies in our children, we sometimes have reason to be very afraid. To say more would be to give away more of the plot than I care to do.This is my sixteenth outing with Wesley, his team, and his boss Gerry Heffernan. I've watched each character grow and enjoyed the way Kate Ellis blends a modern police procedural series (Wesley) with archaeology and history (his friend Neil Watson). It's always good to catch up with Ellis's characters, although I did notice that their private lives had a smaller presence in this book than in previous ones. I think I know why.The present-day police and archaeological work is interspersed with chapters from the diaries of two men who worked on the Catton Hall estate. Some readers may think that the historical details in this book are a bit fantastical, so I would urge them to read Ellis's notes at the back of the book.If there's a bit less about the characters' personal lives in The Cadaver Game, I think it has a lot to do with the excellent and intricate plot that the author has created. It's the very best sort of jigsaw puzzle in which most of the fun is in trying to put all the pieces together without bending the corners of any of them. I have to admit that I usually prefer characterization above all (not that I want a badly constructed story!), but once in a while I come across such a finely crafted plot that I just have to let the characters take a little holiday. Knowing Ellis the way I do, all her marvelous people will be back stronger than ever in the next book (The Shadow Collector), and I have it waiting for me. This consistently high quality series has been one of my favorites ever since I read the first book.
Also in the Wesley Peterson series | View all