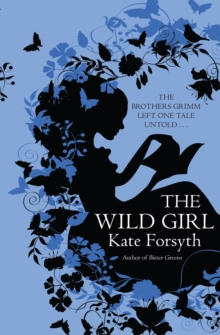 Description
Once there were six sisters. The pretty one, the musical one, the clever one, the helpful one, the young one ...And then there was the Wild one.
Dortchen Wild has loved Wilhelm Grimm since she was a young girl.
Under the forbidding shadow of her father and the tyranny of Napoleon's army, the pair meet secretly to piece together a magical fairy tale collection. The story behind the stories of the Brothers Grimm.
Information
Format: Paperback
Publisher: Allison & Busby
Publication Date: 20/02/2014
ISBN: 9780749015572
Free Home Delivery
on all orders
Pick up orders
from local bookshops
Reviews
Showing 1 - 3 of 3 reviews.
Review by Yarrow
16/06/2015
I'd previously enjoyed 'Bitter Greens' by the same author so I was excited to pick up this new book, but in the end, I found it all a bit...well grim (sorry). Mild spoilers follow.'The Wild Girl' tells the story of Dortchen Wild, who grows up and falls in love with Wilhelm Grimm who lives next door. She tells him many of the stories for his collection of folk tales (which he writes with his brother, Jakob). However, Dortchen has to come to terms with what we would consider the post-traumatic stress disorder she suffers after abuse from her father. A few things stopped me from enjoying this book. Firstly, the characters are very one-dimensional, the best example of this is Dortchen's five sisters. On the back of the book it says 'The pretty one, the musical one, the clever one, the helpful one, the young one... And then there was the Wild one'. This is taken to extremes in the book, as whenever something helpful needs doing, the helpful one does it, and whenever there's a ball to dress up for, the pretty one does it, and so on. Apart from Dortchen, nobody did anything beyond the confines of their stereotype, and so nobody came alive in this book.Secondly, the book is set at the time of rapid Napoleonic expansion. We know this because every five pages or so, one character will turn to another and say "What's happening with Napoleon now?", "Well, he's just won a battle at such-and-such". Events from the history of the period happen around the characters, but even the really awful things that happen to Dortchen's brother Rudolf don't seem to have any lasting effect.Thirdly, this book should come with a trigger warning for the graphic abuse suffered by Dortchen at the hands of her father. The author explains in the afterword that this explains Dortchen's story 'All-kinds-of-fur', but it did take up most of the middle third of the book and made for rather grim reading. See Robin McKinley's 'Deerskin' (a retelling of 'All-kinds-of-fur') for a much better handling of a similar subject. Fourthly, one of the difficulties inherent in weaving a fictional story around real-life events is that real-life often isn't plotted very tightly, and this book suffers from some long lags in the middle while we're just waiting for Dortchen to do things. There's a whole great stretch of it where all she does is sneak out, kiss Wilhelm, get caught by her father, get beaten, get locked in the house, repeat. All in all this book was ok, but not as good as 'Bitter Greens', which I'd recommend instead.
Review by ArmchairAuthor
16/06/2015
Though Bitter Greens had three heroines suffering, The Wild Girl is three times more brutal to read.Most people (of European descent) know of the folktale collection compiled by the Brothers Grimm, but few know about the women who told them the tales. One of these storytellers was Dortchen Wild. Second youngest of the Wild family, neighbors to the Grimms, Dortchen was an empathetic girl will a skill for herbalism and a long-running crush on Wilhelm Grimm. Against the backdrop of the Napoléonic Wars their collaboration and eventual romance unfolds, the darkness all around matched only by the darkness in Dortchen's own home.One of the things I loved about Bitter Greens, apart from the fairy-tale and deeply-researched historical fiction aspects, was how complex the writing was. Three stories intertwined like the strands that form a braid, echoing each other and moving the narrative forward. The writing in The Wild Girl is no less rich but, because the scope of the novel is so much smaller, at times it feels as though there is not enough story to justify the novel's nearly five-hundred pages. The A-plot is ostensibly the romance between Wilhelm and Dortchen, but it is often swamped by the brutal realities of Dortchen's day-to-day life. Where the arcs of Bitter Greens' three heroines called back to each other, in The Wild Girl it is the stories told by Dortchen that call back to her own life. Many fairy-tale themes crop up in the two-decade-long tale of her romance with Wilhelm: sisters going to a ball while one stays home to do chores, magic rhymes, and the transformative power of a really awesome dress.Some of the themes of The Wild Girl struck so close to home that I have to admit they tempered my enjoyment of the story. Dortchen's experience as a civilian during a war that seems like it will never end, with her country first being invaded and then used to supply soldiers for the conquerors to invade other countries, hit a little too close to home for this American. While many would argue that America is the Napoléonic France of our situation, from a civilian standpoint my country was violently attacked when I was in high school and we've been at war with multiple countries ever since. I am married to a Marine who began his service right after 9/11, I have taught preschool and cared for infants on military bases, half of my friends enlisted straight after high school, and I have been groped in airports in the name of "safety" more times than I can bear to think about. My youngest brother currently has plans to enlist. In 2008 we were promised an end to this war and it hasn't materialized yet, so I related to the climate of worry though my struggle has not yet grown so dire as Dortchen's.The other major plot of the novel is Dortchen's relationship with her extremely strict father. As the war worsens and he becomes more stressed and worried, he devolves into outright abuse of his daughters. I will only say that the descriptions of this abuse are realistic to the point of triggering, if you have a past in any way similar. In her author's note Forsyth mentions the plotting of these passages giving her nightmares. I do appreciate her commitment to leaning in when writing about the uglier aspects of life. I have always loved fairy tales because they are just as dark as life can be. Sometimes darker.There is much to love about The Wild Girl, even if my personal experience prevented me from embracing it as fully as I did Bitter Greens. Germany (specifically Hesse-Kassel, here) is a beautiful, sweet country done justice by Forsyth's realistic tale of romance between a dreamy writer and an apothecary's daughter. It may be a bit long-winded, but it's an easy trap to fall into for lovers of history and literature alike (and an author sticking to a historical timeline.) People who enjoy Austen or Little Women will like the early passages with Dortchen and her siblings, fairy-tale lovers will be rewarded throughout.
Review by DarkFaerieTales
11/07/2015
Review courtesy of Dark Faerie TalesQuick & Dirty: Dark and tortured look into the life of the girl who would one day marry Wilhelm Grimm. This is a historical fiction that will have you contemplating the nature of life in the early 1800s.Opening Sentence: 'Wild by name and wild by nature,' Dortchen's father used to say of her.The Review:The Wild Girl is a historical fiction novel based loosely on Dortchen Wild. She is the girl who falls in love with Wilhelm Grimm during the extremely harsh times of the Napoleonic Wars. At first I thought this novel could have been a YA but then Dortchen began to grow up and the really dark and terrible things began happening to her. Halfway through The Wild Girl it becomes a dark and unsettling read. The Wild Girl, at its heart is a love story about a young girl and all the trials and tribulations that she had to go through in order to finally marry him.Dortchen is a young girl when she first meets Wilhelm Grimm, the older brother of her best friend Lotte. She immediately falls in love with the young man, 7 years her senior. She spends as much time as she can trying to be around the scholarly Wilhelm while still doing her chores/housework. The Grimm's live next door so it isn't too hard to hear/see him on a daily basis. As it is the early 1800's, her father still goes by the rule that the father is the owner of the children. He negotiates their marriages and freedoms. Dortchen has five sisters that she shares the household chores and duties with before they all start slowly leaving the house for marriage.Napoleon has made life really hard for the Wild and Grimm families. Dortchen's father is a pharmacist so his products get stolen by the armies and even replenishing his stock is hard because ingredients are scarce. The Grimm's have a hard time finding jobs so their free time is filled with searching for stories for their fairytale book that they want to publish. They believe a lot of the stories are being lost because of wars that they want to write them down for future generations to learn. Dortchen and her family supplies quite a few of the stories in the collection. She loves to tell tales because it's the only time she can properly spend time with Wilhelm.Dortchen is a fun and free-spirited little girl at the beginning of the novel but as time progresses and her father's oppression/beatings turn her into a meek and sorrowful teen/woman. I know a lot of what she had to deal with was common in that time. I was infuriated at the things that Dortchen had to go through and I was even more infuriated at the fact that she didn't believe that she could have her own happily ever after.The Wild Girl is told entirely through Dortchen's third person point of view and spans about twenty years of her life. Even though this was a really dark story, I enjoyed the writing style and how many things in history were actually included. After I picked up this novel, I immediately went to the web to see if Dortchen and Wilhelm marry. When I saw how late in life she married him, I wanted to know what took so long, especially for something like that in the 1800s. That was a huge driving factor for me, especially when I got to the really dark parts of the story.I used to read a lot of historical fiction when I was younger, so this novel really took me back to those tastes. The author's notes were what in the end made me really enjoy this novel in the long run. Her reasoning for certain things happening to Dortchen were substantiated in her research. Even though The Wild Girl is a fictional story, it could very well be the real story of Dortchen Wild. The Wild Girl definitely left its mark on me, as I have been unable to get over portions of the story and hoping that Dortchen did finally get the happily ever after she needed.Notable Scene:'Where are our names?' she cried. 'Why aren't we named in the book? We told you the tales. Our names should be there too!'He was taken aback. 'Jakob thought it best,' he stammered. 'The tales belong to no one. They are a genuine expression of the spirit of the folk –''Rubbish,' Dortchen said.He took a step away. 'But, Dortchen—'She pointed to her mouth. 'I told you these tales. I told them. Does that mean nothing?''The tales came from many place, many people . . . We thought it best—''You! You thought nothing. You think nothing that Jakob does not think.' Dortchen slammed the book shut, then flung it open again. 'Look! All these pages of scholarly notes.'She began to read out loud: 'In Mullenhoff, No. 8, the manikin is called Rumpentrumper. In Kletke's Marchensaal, No. 3, he is Hopfenhutel. In Zingerle, No. 36, and Kugerl, p. 278, Purzinigele.' She looked at him scathingly. 'You can list a whole lot of other names for Rumpelstiltskin, yet can't find the room to add one line that says "told by Dortchen Wild". For words – that's all it would take, Yet in this book, in all these thousands of words, you couldn't fit in another four.''Dortchen, I'm sorry. I didn't realise it mattered.''You're a fool, she screamed. 'A weak, spineless fool, in thrall to your brother.' Vaguely, she was aware of Lotte and Jakob in the hallway, staring at her with shocked eyes. She did not care. She flung the book in Wilhelm's face and turned and fled.He did not follow after her.FTC Advisory: Thomas Dunne Books/Macmillan provided me with a copy of The Wild Girl. No goody bags, sponsorships, "material connections," or bribes were exchanged for my review.