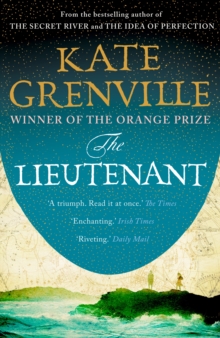 Description
In 1788 Daniel Rooke sets out on a journey that will change the course of his life.
As a lieutenant in the First Fleet, he lands on the wild and unknown shores of New South Wales.
There he sets up an observatory to chart the stars. But this country will prove far more revelatory than the stars above.Based on real events, The Lieutenant tells the unforgettable story of Rooke's connectionwith an Aboriginal child - a remarkable friendship that resonates across the oceans and the centuries.
Information
Format: Paperback
Pages: 320 pages
Publisher: Canongate Books Ltd
Publication Date: 04/02/2010
ISBN: 9781847673473
Other Formats
CD-Audio from £12.05
EPUB from £5.39
Free Home Delivery
on all orders
Pick up orders
from local bookshops
Reviews
Showing 1 - 2 of 2 reviews.
Review by hazelk
16/06/2015
Having read and enjoyed an earlier novel by this author (The Secret River) I was disappointed with this book. It started off promisingly, the character and development of the future lieutenant being interesting as was his self-motivation in working out the aborigine language of the indigenous people of the Sydney area.However, there was really only sufficient materail for a novella or a short story and the narrative flagged half way through: I started to skip read just to get finished. I admired the central character but this wasn't enough to make it a good read.
Review by charlottejones952
16/06/2015
This is an historical fiction book set in the late 1700s to early 1800s. It focusses on Daniel Rooke, a young man, discovering himself, as well as the new world in Australia along with it's natives and language.<br/><br/>Historical fiction isn't something that I would usually pick up, but I was surprised with this novel. The writing was absolutely flawless and this proved to be a beautifully crafted piece of fiction. Although this is technically fiction, it is based on a lot of historical facts and Rooke, the protagonist, is based on a real historical figure. I felt that this added a lot of realistic elements and emotions to the book and really dragged me, as a reader, into the story and the situation that Rooke finds himself in.<br/><br/>One of my favourite things about this novel is the use of language that Grenville includes. As Rooke is discovering the language of the natives, the reader also is discovering it along with him. I found that this helped me to become completely immersed in the story and the world of Australia at that time.<br/><br/>The writing is also one of the main things that kept me reading on throughout the slower parts of this book. It is some of the most beautiful writing I have come across with its poetic descriptions of the landscape and Rooke's surroundings, as well as the more philosophical aspects of Rooke's train of thought. I found that this novel really got me thinking about the attitudes of humanity and the reasoning behind certain things that we, as a species, do.<br/><br/>Overall, I would give this 4 out of 5 stars as although it parts it went a bit slow, I absolutely loved the writing and the surrounding that Kate Grenville created through her words and perfectly formed, true-to-life characters. A must-read for anyone who loves historical fiction, or just wants to try something new!