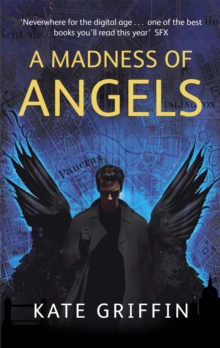 A Madness of Angels
Paperback
Description
When a man is tired of London he is tired of life; for there is in London all that life can afford - Samuel JohnsonIn fact, Dr Johnson was only half right.
There is in London much more than life - there is power.
It ebbs and flows with the rhythms of the city, makes runes from the alignments of ancient streets and hums with the rattle of trains and buses; it waxes and wanes with the patterns of the business day.
It is a new kind of magic: urban magic. Enter a London where magicians ride the Last Train, implore favours of The Beggar King and interpret the insane wisdom of The Bag Lady.
Enter a London where beings of power soar with the pigeons and scrabble with the rats, and seek insight in the half-whispered madness of the blue electric angels.
Enter the London of Matthew Swift, where rival sorcerers, hidden in plain sight, do battle for the very soul of the city . . .
Information
Format: Paperback
Pages: 496 pages
Publisher: Little, Brown Book Group
Publication Date: 01/04/2009
Category: Fantasy
ISBN: 9781841497334
Free Home Delivery
on all orders
Pick up orders
from local bookshops
Reviews
Showing 1 - 3 of 3 reviews.
Review by wyvernfriend
16/06/2015
This is primarily the story of London. A London where magic is formed by the rote and ritual of everyday life, where some of the excess energy created by living can be used by those who can feel it. Matthew Swift is one of those sorcerers. Two years ago he disappeared, now he's back. Arriving back in his former home, naked, he has to work out what's happened to him, to his city and to the powers that are in the place. His former mentor is ruthlessly trying for immortality and control of the power of London and he finds himself working with the opposition.This is a book that interweaves magic with the fabric of a city, forming an interesting combination of cause and effect. I've only visited London once but this really felt quite real in it's view of the city and the power inherent in things.I've read other books by this author and I look forward to reading more!
This was a bit of a weird read. There's nothing I dislike about this book. The main character is very likeable, the premise is very interesting as is the use of magic, good female characters and great use of the City of London. I thought the writing was very engaging too with some good dialogue. But, I felt rather detached from the whole thing. I just never connected with the story and I really wanted to because there's a lot to like about the book and especially Matthew Swift. I may read the next in the series. Undecided on that front.<br/><br/>A good read. I didn't completely click with it, but I'm glad I read it.
Review by rosieclaverton
16/06/2015
I struggled to get into this book, but I have difficulty with first person POV and weighty description. However, the style grew on me and the description had a meta element that excused some of the more verbose passages.<br/><br/>Exciting plotting, with good twist elements - I will keep reading!
Also in the Matthew Swift Novels series | View all