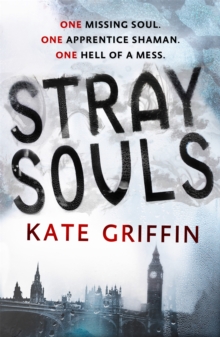 Description
'Don't look back. It wants you to look back.'London's soul has gone missing.
Lost? Kidnapped? Murdered? Nobody knows - but when Sharon Li unexpectedly discovers she's a shaman, she is immediately called upon to use her newfound powers of oneness with the City to rescue it from a slow but inevitable demise.The problem is, while everyone expects Sharon to have all the answers - from the Midnight Mayor to Sharon's magically-challenged self-help group - she doesn't have a clue where to start.But with London's soul missing and the Gate open, there are creatures loose that won't wait for her to catch up before they go hunting.STRAY SOULS is the first novel in the Magicals Anonymous series, set in the same fantastical London as the Matthew Swift novels.
Information
Format: Paperback
Pages: 464 pages
Publisher: Little, Brown Book Group
Publication Date: 01/10/2012
Category: Fantasy
ISBN: 9780356500645
Free Home Delivery
on all orders
Pick up orders
from local bookshops
Reviews
Showing 1 - 2 of 2 reviews.
Review by Capnrandm
16/06/2015
Review courtesy of All Things Urban Fantasyallthingsuf.comDefining your identity can be hard enough for any person, without magical "extras" making you feel all the more isolated and alone. Kate Griffin puts the epic and the mundane side by side in STRAY SOULS. As Sharon's support group bumbles through their neurosis in a crumbling city, a terrible magic is killing those around them.Unfortunately, it was just this snapshot writing style that made it hard for me to get into STRAY SOULS. 100 pages in, Sharon was still a cypher and I resented only getting spare glimpses of the Midnight Mayor and his fight against the Dog. Sharon is a modern hero, armed with self-help books and Google, but I was more than ready for her to grow out of "overly earnest support group leader" into "kickass shaman" by the time she actually started driving the story.I had to adjust my expectation from "Urban Fantasy" to "Hapless British Comedy with Magic" before I could enjoy this book. STRAY SOULS is a story of misfits, complete with point of view "confessionals" from supporting characters. I loved the dotty, powerful characters immediately, Dr. Seah ("…drugs are cool – I mean, like medicinal drugs – they're awesome."), Sammy the Elbow, and Matthew Swift. The neurotic members of Sharon's support group took a lot longer for me to warm up to. As Sharon's patience grows thin and her temper flares, however, I enjoyed her more and more. But even as the characters started to win me over, I still found myself skimming past most of the social commentary and therapy jargon.This is a book that I liked despite itself. The narrative style didn't click for me until about halfway through, and Sharon's self-help schtick never quick clicked, but almost against my will I found myself laughing along with Griffin's relentless humor. Where I had to be won over page by page, readers who like a little silliness in their urban fantasy will love this mix of danger and humor unreservedly.Sexual Content: None.
Review by Tyrshundr
16/06/2015
Set in the same magical London as Griffin's Matthew Swift novels , this novel skilfully introduces a cast of low powered or inept protagonists, giving a new and exciting perspective on the city.<br/><br/>The plot focuses on Sharon Li, a newly awakened shaman and self-help book addict, and the other members of Magicals Anonymous, a support group for those who have issues with integrating the magical and the mundane. When the spirit of London disappears ancient feuds and political struggles prevent Swift or other established powers from directly investigating, so Sharon is given the task and the rest of MA are drawn in.<br/><br/>As with the Swift series, the plot contains many real challenges without losing the feeling that magic is both powerful and close.<br/><br/>Unlike some urban fantasy series containing more than one supernatural species, Griffin manages to include several of the standard creatures of legend and types of magicians without either losing plausibility or requiring complex explanations.<br/><br/>As well as the core challenge of recovering the spirit, the book portrays the mundane challenges of being magical but not a power: Sharon struggles with a low-wage job to make the rent on a shoddy flat even before her schedule is disrupted by the need to save the city.<br/><br/>Although Sharon is the lead protagonist, other members of MA are equally fleshed out, both directly through their involvement in events and by short chapters in the style of Alcoholics Anonymous testimonies detailing their issues. Some of the characters have the potential to be slapstick, for example a hypochondriac vampire who wants to sue for adequate dental services; however, Griffin makes their concerns seem real issues and so the humour, when it comes, only serves to highlight how dark their world is.<br/><br/>The villains of the book are equally well developed. The non-human threats clearly have very inhuman mindsets but also have backgrounds and desires that caused me to understand, and even sympathise with, some of their actions.<br/><br/>This is clearly written to be the first book in a new series so does not resolve all of the sub-plots; however it does bring each of them to a natural rest point.<br/><br/>It is also set in the world of an existing series and so obviously runs the risk of either over-explaining to established readers or under-explaining for first time readers. Griffin seeks to address this with the trope of inexperienced protagonists and I found myself sympathising with their search for answers without cursing needlessly unhelpful background characters. As I have read the Swift series I am unsure whether it would lack clarity on its own.<br/><br/>I enjoyed this book thoroughly both for its plot and its vivid descriptions of urban magic. I recommend it to any fan of either urban fantasy or magical systems.<br/>
Also in the Magicals Anonymous series