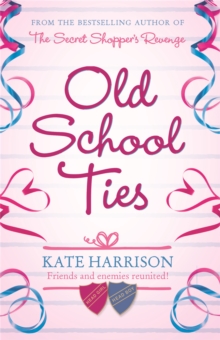 Old School Ties
Paperback
Description
Friends and enemies reunited! A brilliantly entertaining novel from the author of THE SECRET SHOPPER'S REVENGE.Your school days are supposed to be the best days of your life - and Tracey Mortimer has no argument with that.
Sixteen years ago she was the most popular girl in school, ruled her own gang, and dated the cutest boy in her year.
Now it's all rather different: she's 33, stuck in a dull marriage that's only tolerable because her husband is rarely at home. And although she dearly loves her two children, a life of kids TV and alphabetti spaghetti is hardly exciting...Then Tracey spots an advert from a TV company wanting to make a reality-style show on a perfect school reunion - giving Tracey the chance to re-live the good old days.
But not all her old school classmates remember their school days quite as Tracey does.
Tracey made Suzanne Sharp's life hell - so what better way to get her own back than revenge, live on national television...
Information
Format: Paperback
Pages: 352 pages
Publisher: Orion Publishing Co
Publication Date: 01/11/2009
ISBN: 9781409102335
Free Home Delivery
on all orders
Pick up orders
from local bookshops
Reviews
Showing 1 - 2 of 2 reviews.
Review by LarissaBookGirl
16/06/2015
Tracey Mortimer was a queen; she was a leader in fashion, had the best looking boyfriend and always got what she wanted. But that was back in 1984 when she was seventeen. Now Tracey is 33, she's a boring suburban house mum, with an unfaithful husband and has since learnt that you don't always get everything you want.Tracey's life has not turned out as she might have imagined when she was seventeen, and now more and more Tracey is thinking about her glory days when she was queen of the school and life was simpler. So when the opportunity presents itself for her to step back in time, by way of a school reunion, Tracey jumps at the chance. But not everyone is as excited as she to walk down memory lane.A school reunion sounded like a good idea at the time, but as the reunion approaches Tracey finds her life unravelling. She has no career to speak of, her marriage is falling apart, her children are unhappy, and she has no real friends. Tracey begins to wonder if this reunion idea was such a good idea at all, especially now it seems she may be attending it alone.In Old School Ties Tracey is forced to look to her past to find the means to move on in the future. This is a book about growing up and making mistakes; about realising that not everyone is the same, and not everyone remembers the same. A book that has something for everyone, it's a witty and entertaining story with attitude.
Review by isabelx
16/06/2015
When I was Tracey Mortimer, the whole year group belonged to me. Kids gossiping on the bus would say, 'Guess what happened in Tracey's year . . .' Once a teacher told my Mum, 'we're all hoping that Tracey's year is a bit of a hiccup. Half the staff-room would retire tomorrow if we thought this was the way children were going to be from now on.'Now that she is in her thirties, unhappily married with two children and no friends, life is very different for Tracey Brown. She volunteers for a television show that involves organising a school reunion and slowly comes to realise why her schooldays were the happiest days of her life, and how badly her behaviour affected some of her fellow pupils. I liked the slow blossoming of the friendship between Tracey and Boris (whose real name is Helen), the first of her classmates to be tracked down. At first Tracey is just relieved that someone else is interested in the reunion even if it isn't someone she was close to at school, but she gradually realises that Boris has other qualities apart from being good-natured; she has a strong character, is much more competent than Tracey and people actually like her. It is only towards the end that you realise why Boris too needed to find a new friend at that particular time. A quick and entertaining read, skilfully written so that you come to feel sympathy for an initially unlikeable anti-heroine.