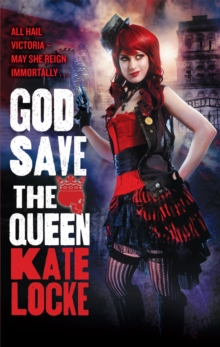 God Save the Queen : Book 1 of the Immortal Empire
Paperback
Description
The Year is 2012 - and Queen Victoria still rules with an immortal fist.
She's the undead matriarch of a Britain where the Aristocracy is made up of werewolves and vampires, where goblins live underground and mothers know better than to let their children out after dark.
A world where technology lives side by side with magic, where being nobility means being infected with the Plague (side-effects include undeath) and Hysteria is the popular affliction of the day.Xandra Vardan is a member of the elite Royal Guard, and it's her duty to protect the Aristocracy.
But things get complicated when her sister goes missing.
Xandra will not only realise she's the prize in a dangerous power struggle - but she'll also uncover a conspiracy that threatens to topple the empire itself.
Information
Format: Paperback
Pages: 384 pages
Publisher: Little, Brown Book Group
Publication Date: 26/06/2012
Category: Fantasy
ISBN: 9780356501437
Free Home Delivery
on all orders
Pick up orders
from local bookshops
Reviews
Showing 1 - 4 of 4 reviews.
Review by krau0098
16/06/2015
This is the first book in the Immortal Empire series by Locke. Right now there are three books planned in this series. The second book is scheduled for a Feb 2013 release and will be titled, The Queen is Dead. The third book, Long Live the Queen, is scheduled for a Sept 2013 release. This was a creative and well done novel. Our heroine Xandra, lives in a world where Queen Victoria is still ruling as a Vampire and a horrible plague has caused part of the population to mutate into vampires and werewolves. Xandra works as one of the Royal Guard and gets swept up in an investigation when her sister is mysteriously moved into the Bedlam insane asylum. I really enjoyed this book. It's an interesting blend of Victorian sensibilities, steampunk, alternate history, and good ole urban fantasy. It took me a bit to really engage with the characters, but by the end of the book I was very attached to them. Xandra is a fun character; she's a halvie (half vampire, half human) and has excellent fighting skills. There are a lot of awesome action scenes in this book. In the course of her investigation Xandra uncovers some interesting secrets about her own past. There are a number of intriguing supporting characters as well. Vexation is the werewolf alpha who kind of tumbles into Xandra's life and becomes both an ally and a lover. He is an excellent character and has this whole respectful, yet dark and dangerous thing going on. Churchhill is Xandra's instructor in all things fighting and investigative, he adds an interesting dimension to the story as well.The setting is incredibly interesting. It's a fairly dark setting. There is a lot of oppression against halvies and some rather unsavory activities that happen in the ranks of the vampiric aristocracy. It's interesting how having a ruling class that is centuries old makes the world a blend of old traditions with new technologies.This was a very fun read. I love how goblins play a prominent role and I love their part in whole big picture of the plague and how it was formed. Locke's created a very good history here and a very complete world. The story has some excellent twists and turns that are hard to predict, the book was very engaging and hard to put down. On that note there is a glossary and afterward that explain in detail how the plague came about and how the genetic modifications work. I strongly recommend reading this before you read the book so that you aren't so lost in all the strange terminology early on.Overall a strong start to a wonderful new steampunk/urban fantasy series. Xandra is a fascinating heroine and has an excellent staff of supporting characters. This is a fun new world that is very creative and intriguing. Mostly this book is just good fun; full of interesting races, a wonderful world, and lots of action. Recommended to those who like a little steampunk in their urban fantasy. I can't wait to see what The Queen is Dead holds for us!
Review by crazybatcow
16/06/2015
I would go buy this book if I didn't already have it. It is excellent. The world is fresh/original, the nature of the werewolves and vampires is fresh/original and the story is engaging, interesting and well-written. We also have a "new" intelligent species introduced (goblins) who even play a proper role in the story.What I liked most about this book is that it is such a fresh take on the typical urban fantasy female hero "saves her world" theme that has flooded the marketplace over the past couple years. Oh, and the main character does not whine! That's also a nice change. And I really like the variation of vampire/were origins. Seriously, I read a lot of books in this genre and this is the first time in ages that the story/setting/origins were fresh.There is even a little romantic thread that makes sense and was not creepy or inappropriate and didn't cause the heroine to become all "sappy"... Overall, this was a nice change in a tired genre and I'm going to be looking for more books by this author.
Review by wyvernfriend
16/06/2015
Well Kim Newman did Queen Victoria as a vampire in his Anno Dracula series but this is an interesting twist on a similar idea. Set in an alternative present where the black death mutated and produced people who are largely immortal. Three different aspects of this mutation produced Vampires, Werewolves and Goblins, with varying sensitivity to light and issues. These people become the nobility, many of them already were. Xandra Vardan is a halfie, not quite one of the elite but one of the guards for the elite, she works hard, knows her place in the scheme of things and parties hard when she can. Her life changes utterly when her sister dies and her investigations brings her down paths that will change the empire forever.Interesting concept, interesting characters and I'm looking forward to what's going to happen next with the characters and their lives. There are several good background characters that I'd like to see more of and Xandra's brothers and sisters seem a little thin, character wise, but otherwise it's quite an interesting story.
Review by libgirl69
16/06/2015
Not bad, spotted the new queen pretty quick though....
Also in the Immortal Empire series | View all