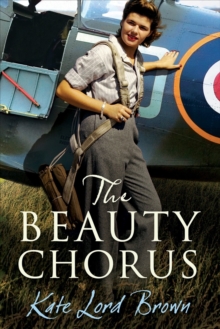 The Beauty Chorus
Hardback
Description
New Year's Eve, 1940: Evie Chase, the beautiful debutante daughter of an adoring RAF commander, gazes out at the sky as swing music drifts from the ballroom.
With bombs falling nightly in London, she resolves that the coming year will bring more than just dances and tennis matches.
She is determined to do her bit for the war effort. 2nd January, 1941: Evie curses her fashionable heels as they skid on the frozen ground of her local airfield.
She is here to volunteer for 'The Beauty Chorus', the female pilots who fly much-needed planes to bases across the country.
Soon, she is billeted in a tiny country cottage, sharing with an anxious young mother and a naive teenager.Thrown together by war, these three very different women soon become friends, confidantes and fellow adventuresses.
But as they take to the skies, they will also face hardship, prejudice and tragedy.
Can their new-found bond survive their darkest hours?
Information
Format: Hardback
Pages: 448 pages
Publisher: Atlantic Books
Publication Date: 01/04/2011
ISBN: 9781848878709
Free Home Delivery
on all orders
Pick up orders
from local bookshops
Reviews
Showing 1 - 2 of 2 reviews.
Review by pokarekareana
16/06/2015
In 1940, with the war in Europe intensifying, British women were called upon to undertake tasks that had traditionally been carried out by men. Evie, the aristocratic daughter of an RAF commander; Stella, the war widow recently returned from Singapore; Megan, the girl from rural Wales who has never been away from home before. These are the three central characters who sign up with the ATA and ferry various military aircraft to bases all over the UK, and this book focuses on their lives, loves and wartime work.In its defence, this book is well-written and I felt involved with the characters' lives. Kate Lord Brown has clearly tried to create a heart-wrenching, beautiful story about a generation whose youth was blighted by war. Sadly, this book falls far, far short of that. As you may have guessed from the previous paragraph, the characters were incredible - incredibly stereotyped, that is. The impossibly rich, impossibly beautiful girl, the mysterious girl who has returned from overseas, and the country yokel who may as well have turned up on a tractor. The male characters weren't much better - variously handsome, wealthy, aristocratic... and of course, the token American GI. The storyline started out well, but quickly became tired and predictable. I made a game out of guessing what was going to happen next - I was mostly right. I was hoping that there would be a dramatic twist to redeem the book towards the end, but sadly not. The characters seemed to have remarkably short memories, and generally operated under the delusion that any problem, be it a marital crisis or the death of a loved one, can be fixed with a nice glass of champagne and the attentions of a beautiful and/or wealthy member of the opposite sex. And they all lived happily ever after...
Review by juniperjungle
16/06/2015
I'd put off reading this book for ages, I'd heard it was a beautiful and emotional read and I needed to be in the right frame of mind (and have a good supply of tissues) and it never felt like the right time. I'm really glad I waited, a book like this deserves some proper indulgent reading time. It's a truly wonderful read, I'm not sure I have the superlatives for it. Steeped in history, filled with the wonderful women of the ATA this book has it all – hard work, friendship, laughter, tears and love. An absolute must read.