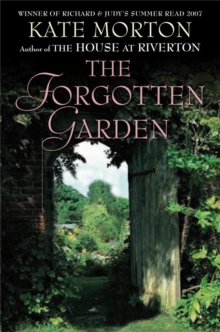 The Forgotten Garden
Paperback
Description
A moving and powerful mystery, The Forgotten Garden is the bestselling second novel from author of The House at Riverton, Kate Morton.1913On the eve of the First World War, a little girl is found abandoned after a gruelling ocean voyage from England to Australia.
All she can remember of the journey is that a mysterious woman she calls the Authoress had promised to look after her.
But the Authoress has vanished without a trace.1975Now an old lady, Nell travels to England to discover the truth about her parentage.
Her quest leads her to Cornwall, and to a beautiful estate called Blackhurst Manor, which had been owned by the Mountrachet family.
What has prompted Nell's journey after all these years?2005On Nell's death, her granddaughter, Cassandra, comes into a surprise inheritance.
Cliff Cottage, in the grounds of Blackhurst Manor, is notorious amongst the locals for the secrets it holds - secrets about the doomed Mountrachet family.
But it is at Cliff Cottage, abandoned for years, and in its forgotten garden, that Cassandra will uncover the truth about the family and why the young Nell was abandoned all those decades before.
Information
Format: Paperback
Pages: 656 pages
Publisher: Pan Macmillan
Publication Date: 06/06/2008
ISBN: 9780330449601
Other Formats
EPUB from £6.39
Paperback from £7.65
Free Home Delivery
on all orders
Pick up orders
from local bookshops
Reviews
Showing 1 - 5 of 51 reviews.
Previous | Next
Review by riverwillow
16/06/2015
This is sprawling saga spanning a hundred years, it starts with the discovery of a little girl abandoned on the docks following the sea voyage from England to Australia. A little girl who doesn't remember her own name. Ninety years later she bequeaths a Cornish Cottage to her granddaughter, who slowly discovers the just how and why her grandmother ended up alone at the docks. I particularly loved the use of fairytales, written by one of the main protagonists, as a device revealing some elements of the story. I love books like this.
Review by Kasthu
16/06/2015
The Forgotten Garden, the follow-up to The House at Riverton, is a muti-layered novel with complicated characters and a highly intriguing storyline. The story jumps back and forth in time, but rarely is the reader confused as to what's going on. This novel won't be out in the US until April 2009, but of course that didn't stop me from running over to Amazon Uk to purchase a copy of The Forgotten Garden! Let me just say that I wasn't disappointed.The book opens in1913, when a young girl with no name is found on a quayside in Australia. She doesn't remember anything about herself, and all she carries with her is a white suitcase containing, among other personal items, a book of fairytales penned by a woman the girl calls the Authoress.In 1975, the girl, now a woman called Nell, goes back to England, where she attempts to find answers to questions about her identity. Her travels lead her to Blackhurst Manor, delving deep into the Mountrachet family's secrets and purchasing a cottage on the Blackhurst property. But before she can solve the mystery of her past, Nell's flaky daughter Lesley shows up, dumping her granddaughter Cassandra on her doorstep--permanently.In 2005, after Nell's death, Cassandra inherits the cottage and tries to answer the questions her grandmother raised. The stories of these two women are complemented by that of Eliza Makepeace, who grew up in the slums of London around the turn of the nineteenth century, and her cousin, the genteel Rose Mountrachet.This is clearly a novel written by a woman, for women, about women; the male characters take a backseat to the female ones, sometimes becoming unlikeable. In fact, Linus Mountrachet is downright creepy, and Nathaniel West is a bit of a cad. The novel is punctuated here and there with some of Eliza's short stories, which provide wonderful little interludes, kind of like AS Byatt's Possession, in a way. Possession, mixed with a little bit of The Secret Garden. We're even introduced to Frances Hodgeson Burnett, suggesting that she might have received inspiration for The Secret Garden from Eliza and Rose's garden.What I loved about this atmospheric, fairytale-like novel was that Morton tells the story of these different, but connected, women, but she doesn't give everything up right away. I tried to guess at the mystery many times, but ultimately my guesses were never correct. The characters are well developed, and although it takes a little while to get into the story, this is an excellent novel, filled with old houses and hidden gardens with secrets and surprises. It's also a novel about foreshadowing; even Cassandra's name suggests someone who can foretell the future. Aside from some too-fortuitous chances (for example, Eliza is rescued from poverty at the exact moment that she's about to be sent off to the workhouse), I found it really, really difficult to put this novel down, and only finished it reluctantly.
Review by smik
16/06/2015
When her grandmother dies in 2005 Cassandra unexpectedly inherits a cottage on the wild Cornish coast. In visiting England to see her inheritance Cassandra is retracing a journey her grandmother took thirty years earlier. Then Nell O'Connor was in search of the truth about herself.You can read much more of the story on the blurb on the back of the book and also on Kate Morton's own site. If you take up the book for discussion with your book group, then Kate has even kindly supplied questions.The book has an interesting structure: written in 3 time frames, the first and last separated by over 100 years, and also through a couple of fairy stories written by one of the characters of the book.And it is a mystery, and there is a murder (just in case people try to tell you otherwise). But just like Kate Morton's earlier book, THE SHIFTING FOG (aka THE HOUSE AT RIVERTON) THE FORGOTTEN GARDEN is not conventional crime fiction. For me it was evocative of books I read 40 years ago- authors like Victoria Holt, Susan Howatch and Antonia Fraser. It's a mystery in the sense that many of Charles Dicken's book were mysteries. It's an intriguing story, with characters with plenty of flesh on them.Kate Morton is a young Australian author living in Queensland. Her books are published in 29 countries. The House at Riverton was a Sunday Times #1 bestseller in the UK in 2007 and a New York Times bestseller in 2008. The Shifting Fog won General Fiction Book of the Year at the 2007 Australian Book Industry Awards, and The House at Riverton was nominated for Most Popular Book at the British Book Awards in 2008. Her second book, The Forgotten Garden, has been a Sunday Times #1 bestseller in the UK in 2008.
Review by soliloquies
16/06/2015
Enjoyable read, although prone to jumping around periods of time and viewpoints a bit too much - it detracted from what was a good story.
Review by Cariola
16/06/2015
The Forgotten Garden is a multi-generational mystery that takes place on two continents (three, if we count a brief sojourn in America) over more than 100 years, from Victoria's England to 21st century Australia. The mystery begins when Cassandra's grandmother and antique shop partner, Nell, passes away and leaves her the deed to a cottage in Cornwall. When and why had her grandmother gone to England. and why had she purchased a house there, only to return to Australia? The answer: to find out who she was. And now Cassandra embarks on the same journey.Morton unpeels the layers of the story through alternating chapters set in alternating times that focus on Nell, Cassandra, young aristocrat Rose Mountrechet, and Eliza Makepeace, known as "The Authoress." It's an interesting structure, and Morton is a very competent writer. As a mystery (which I don't usually read), it kept me engaged, and although I figured out what was going on about halfway through, there were enough missing details to make it worth finishing the book. Don't let my 3.5 rating deter you: I suspect that I would have rated this book much higher a decade ago, but my taste in books has changed considerably.