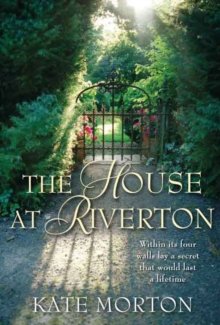 The House at Riverton
Paperback
Description
Summer 1924: On the eve of a glittering Society party, by the lake of a grand English country house, a young poet takes his life.
The only witnesses, sisters Hannah and Emmeline Hartford, will never speak to each other again.
Winter 1999: Grace Bradley, 98, one-time housemaid of Riverton Manor, is visited by a young director making a film about the poet's suicide.
Ghosts awaken and memories, long-consigned to the dark reaches of Grace's mind, begin to sneak back through the cracks.
A shocking secret threatens to emerge; something history has forgotten but Grace never could.
A thrilling mystery and a compelling love story, "The House at Riverton" will appeal to readers of Ian McEwan's "Atonement", L.P.
Hartley's "The Go-Between", and lovers of the film "Gosford Park".
Information
Format: Paperback
Pages: 352 pages
Publisher: Pan Macmillan
Publication Date: 15/06/2007
ISBN: 9780330448444
Other Formats
EPUB from £6.39
Paperback from £7.65
Free Home Delivery
on all orders
Pick up orders
from local bookshops
Reviews
Showing 1 - 5 of 24 reviews.
Previous | Next
Review by cotto
16/06/2015
Here's another book that I have ended up devouring pretty quickly. The premise is that the narrator is holding onto a life long secret and of course you won't find out what this is until the very end. I found that I wasn't overly concerned with figuring out or knowing the secret as the story in itself kept me interested. Set in the early 1900's, the story revolves around the life of a privileged family in the English countryside and the narrator was one of their servants. It was endearing to see the level of commitment that a servant could have to their employer and life from their point of view. There is so much self sacrifice to being in service which is pretty admirable. There's a lot which made this book appealing with many interesting topics are covered: life during the war, industrialisation, women's rights, sibling rivalry, ageing etc. All in all a very good story and light read which is what you need at times after completing some heavier reading or during the summertime.
Review by Jaie22
16/06/2015
Great read, if a little fluffy. Narrated by Grace, a nearly-100-year-old former servant at Riverton, who is party to the house's big secret, which is also the secret of the death of a noted WWI war poet. Big, sweeping atmospheric novel, much in the vein of Gosford Park. Very immersive. Many illegitimate children.As long as the book was, I wanted more.In the same vein as <b>The Thirteenth Tale</b>, but ... fluffier. More of a beach read. But a really good beach read!The best description I can give comes from the <i>Author's Note</i>: Morton writes that she is very interested in works that "utilize tropes of the literary Gothic: the haunting of the present by the past; the insistence of family secrets; return of the repressed; the centrality of inheritance (material, psychological and physical); haunted houses (particularly haunting of a metaphorical nature): suspicion concerning new technology and changing methods; the entrapment of women (whether physical or social) and associated claustrophobia; character doubling; the unreliability of memory and the partial nature of history; mysteries and the unseen; confessional narrative; and embedded texts." (Wikipedia reports that Morton is currently pursing a PhD on this subject.)Overall, this makes me wonder if Grace is indeed an unreliable narrator. We have no clues to make us think other than what she says; she is our sole entrance to the story, although I think we can assume it is "written" by Marcus, her grandson, and the only one to whom she tells her big secret (via audiotape, to be played only following her death). As a device, Marcus also allows us to be up-to-date on Grace's "middle years," those following Ruth's birth and her experience as a nurse in WWII but before we meet her in her final days. (We don't learn much, only that she gets a relatively happy ending.) But we do depend on Grace's interpretation of everything, and in some cases on what Hannah told Grace after much time had passed. There's room for her to disguise facts, to interpret them, but we have no basis for knowing if or when she does.<u><b>Morton goes on to recommend:</b></u><b>Remains of the Day</b>, by Kazuo Ishiguro<b>The Chatham School Affair</b>, by Thomas H Cook<b>Possession</b>, by AS Byatt<b>The Blind Assassin</b>, by Margaret Atwood<b>Half Broken Things</b>, by Morag Joss<b>A Dark-Adapted Eye</b>, by Barbara Vine<u><b>As sources, she cites:</b></u><b>The Rare and the Beautiful</b>, by Cressida Connolly<b>1939: The Last Season</b>, by Anne de Courcy<b>The Viceroy's Daughter</b>, by Anne De Courcy<b>Vita</b>, by Victoria Glendinning<b>The Mitford Girls</b>, by Mary S Lovell<b>Life in a Cold Climate</b>, by Laura Thompson<b>The Theory of the Leisure Class</b>, by Thorstein VeblenHistorical information found in the works of: Nancy Mitford, Evelyn Waugh, Daphne de Maurier, F Scott Fitzgerald, Michael Arlen, Noel Coward and HV Morton.
Review by riverwillow
16/06/2015
To my surprise I really enjoyed it. Its one of those Gothic novels set in the first half of the twentieth century, with a mysterious tragedy haunting the present and a big English country house at the centre, the kind of story that generally rocks my boat. Its well written and I certainly didn't feel Kate Morton reaching for a metaphor or getting carried away with her own cleverness, like Henry James and Ian McEwan.
Review by pamsie
16/06/2015
Lovely story and rather easy to get into. However, I found it hard to empathise with the protagonist's character - both in 1924 and 1999. I found her quite irritating at times.However, I would still recommend the book as the writing is very good too. I look forward to reading more of Kate Morton's books.
Review by LiterateHousewife
16/06/2015
The House of Riverton tells the story of Grace, a 90-year-old woman who is jolted back to the memories of her past service to the household of Lord Ashbury when she receives a letter from a woman making a film about the tragedy that happened there in her youth. Grace may be elderly, but she is a sharp and insightful woman. Her story is entertaining and somewhat sad. The fate of the Ashbury family dramatically impacts her life in so many ways; but, her personal sacrifices, like her service itself, were left seemingly unnoticed until it was too late. Still, Grace regrets nothing except that which hurt her daughter. Woven within the story of her youth is the story of her own family. Part of what makes this novel so poignant is that she retells the story of her life at Riverton and the truth of what happened the night of the poet's suicide as a love letter to her grandson.Although this novel has widespread appeal, it will be most especially enjoyed by those who enjoy reading about Edwardian England and about the lives of those who served British aristocracy. As much as I loved The Remains of the Day, there was little warmth within it. The people at Riverton, both upstairs and downstairs, live as their status dictated, but they are very human and complex. What makes this novel so special and delightful is its heart.