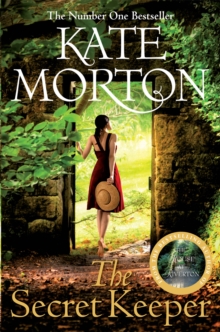 The Secret Keeper
Paperback
Description
1961: On a sweltering summer's day, while her family picnics by the stream on their Suffolk farm, sixteen-year-old Laurel hides out in her childhood tree house dreaming of a boy called Billy, a move to London, and the bright future she can't wait to seize.
But before the idyllic afternoon is over, Laurel will have witnessed a shocking crime that changes everything. 2011: Now a much-loved actress, Laurel finds herself overwhelmed by shades of the past.
Haunted by memories, and the mystery of what she saw that day, she returns to her family home and begins to piece together a secret history.
A tale of three strangers from vastly different worlds - Dorothy, Vivien and Jimmy - who are brought together by chance in wartime London and whose lives become fiercely and fatefully entwined.
Shifting between the 1930s, the 1960s and the present, The Secret Keeper is a spellbinding story of mysteries and secrets, murder and enduring love.
Information
Format: Paperback
Pages: 600 pages
Publisher: Pan Macmillan
Publication Date: 09/05/2013
ISBN: 9780330477598
Other Formats
EPUB from £6.39
Paperback from £7.65
Hardback from £12.95
Free Home Delivery
on all orders
Pick up orders
from local bookshops
Reviews
Showing 1 - 2 of 2 reviews.
Review by passion4reading
16/06/2015
** I'm grateful to Nudge for supplying me with a free review copy. **One carefree summer's day in 1961, Laurel witnesses a shocking act of violence, and deep down she knows that there's more to it than the official explanation given to the police or the newspapers, something that has its roots in the past. Fifty years later and now a famous actress, Laurel visits her dying mother in hospital, and a previously unknown photograph sets her on the trail to uncover all those deeply buried secrets that are still locked away in her mother's mind.Readers of Kate Morton's other books will by now be familiar with her device of split time frames, and in this substantial novel (just over 600 pages), the narration jumps between war-time London, 1961 and the present day, telling the story of Dorothy, Vivien and Jimmy, whose fates become inextricably linked during the Blitz, and whose actions still have repercussions decades later. The beginning was reminiscent of Ian McEwan's Atonement, in that it describes a hot, carefree summer's day, seemingly holding its breath in silent expectation, before a violent event occurs that changes everyone's lives for ever. Kate Morton evocatively describes each period, with 1940s London brought especially vividly to life: the blackout, the noise of the air-raid sirens, the shock and devastation after a night's sustained bombing. She also explores what it means to have family, with all its complex emotional bonds, and with it comes the notion that teenagers very often seem to perceive their parents coming into being as fully grown adults with no history. Bit by bit, more of the truth is revealed, so that it felt I was partaking in an enormous literary jigsaw puzzle. Again the author does a fantastic job in creating living, breathing human beings on paper, and with the storyline involving the characters of Dorothy, Vivien and Jimmy she has managed to come up with an ingeniously complex web of threads. So where did it all go wrong? The latter part of the novel feels heavily contrived: the letter with the photograph that's survived a German bomb and is picked out of the ruins of a house; a photograph in a book which should have triggered a reaction; not just one, but two characters on the sidelines of the main plot keeping journals, one of them a doctor (surely there is a breach of confidentiality issue here; any notes pertaining to potentially living people are generally not made available to the public for at least 75 years after the author's death, as far as I'm aware); the journals managing to both illuminate past events and actions and simultaneously obfuscate them, because they are written in what seems to me a rather unnatural way; Laurel managing to uncover the secret within a fortnight before her next film starts shooting, when anyone doing family history knows how long and protracted a process it is; and a big question mark at the end involving two of the main characters. In short, logic and the law of probability all but fall to pieces. A shame, because I've read all of Kate Morton's books so far and considered her one of my favourite authors. Let's hope this is just a blip and she'll return to form with her next novel.
Review by GingerCrinkle
16/06/2015
Thoroughly enjoyed this - a return to form after The Distant Hours, but still not quite as good as The Forgotten Garden. Yes, I guessed the twist, but then had doubts, so it kept me hooked right to the end. The forgetful child right at the end reminded me of Possession. The first novel I've raced through in ages, so thank you Kate Morton for reinstating my faith in fiction again.