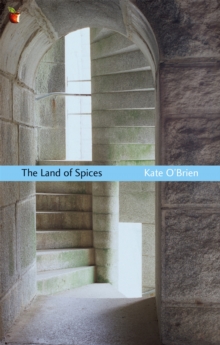 The Land of Spices
Paperback
Description
Mere Marie-Helene once turned her back on life, sealing up her heart in order to devote herself to God.
Now the formidable Mother Superior of an Irish convent, she has, for some time, been experiencing grave doubts about her vocation.
But when she meets Anna Murphy, the youngest-ever boarder, the little girl's solemn, poetic nature captivates her and she feels 'a storm break in her hollow heart'.
Between them an unspoken allegiance is formed that will sustain each through the years as the Reverend Mother seeks to combat her growing spiritual aridity and as Anna develops the strength to resist the conventional demands of her background.
Information
Format: Paperback
Pages: 320 pages
Publisher: Little, Brown Book Group
Publication Date: 04/05/2006
ISBN: 9781844083169
Free Home Delivery
on all orders
Pick up orders
from local bookshops
Reviews
Showing 1 - 3 of 3 reviews.
Review by lahochstetler
16/06/2015
In a convent school in the Ireland of the 1930s, O'Brien weaves the parallel tales of a sensitive young pupil and the lonely mother superior who sees promise in her. Anna Murphey, daughter of an alcoholic father, weak mother, and dictatorial grandmother, finds solace only in the companionship of her younger brother, Charlie. Away at school from a young age, Anna's academic talents create a barrier between her and her classmates, and they run her afoul of certain of the most jealous nuns. Compounding Anna's problems is the fact that she is emotionally isolated from her mostly useless family. Her drunk father, her dominating grandmother, and her spineless mother all exist outside of Anna's emotional world. O'Brien is clearly cognizant of the dangers of convent education for sensitive young women like Anna. The book suggests that loneliness and unhappiness is the lot of the thinking, feeling woman, as epitomized by Anna and the mother superior. Loneliness is endemic. The only happy women in the book are some of the simpering, unthinking elder students. The book also provides a strong indictment against the provincialism of Irish nationalism. The Irish nationalists in O'Brien's work are univerally short-sighted and unsure of why they support their cause. In short, they are incapable of seeing the forest for the trees. This is an interesting, thinking novel, which provides a fascinating look at life in a convent school.
Review by rainpebble
16/06/2015
I read this one for our All Virago/All August month and absolutely fell in love with Kate O'Brien. I am sure that I will read simply everything by her that I can possibly get my hands on so I hope she wrote a lot of books.This is another book of young girls coming of age in convent school. The characters all seemed so real to me. Their actions all made sense to me for that character at that time and in that place.One little girl, as a matter of having no other place, must begin convent school at just six years of age. The Reverand Mother is strongly drawn to the girl but attempts to hide that feeling from everyone including Anna, the little girl.The story is very much about the life of the Reverand Mother as well as the life of Anna.There are the typical "mean and nasty nuns" and the "troubled and troubling" young girls but the way this book is written is what is so very special about it. Everything flowed. The story, the prose, all of it.I cannot recommend this book highly enough.(I am sorry that this is such a poor review, but I read too many books, without reviewing them and it is just difficult to back a month and try to play catch up.)
Review by Kasthu
16/06/2015
Set in an Irish convent school in the early years of the 20th century, The Land of Spices is a novel that covers the school career of Anna Murphy, who comes to Compagnie de la Sainte Famille at the ago of six. She attracts the attention of the Reverend Mother, an Englishwoman who watches Anna from afar during the eight or ten years that Anna remains at the school.I've had good luck and bad with Kate O'Brien's novels; I disliked The Ante Room but loved Mary Lavelle. The Land of Spices falls into the "love" category for me. I wasn't sure that a novel set in a convent school would be my cup of tea, but the novel in a greater sense is about human relationships, not just religion and spiritually. It's also obviously a coming of age novel, about how one girl changes and adapts to her surroundings, even though her home life isn't ideal. There's an interesting contrast with the life of Reverend Mother, whose past as Helen Archer is revealed bit by bit. They have an unspoken bond with one another, even though Anna doesn't realize it. There are some really beautiful observations here about the impact that two totally different people can have on one of another.My only problem with the book is that throughout the book there are excerpts of letters written in French and other languages, which reveal key plot points but are kind of meaningless if you don't speak those languages. But in all, this is a really powerful book.
Also in the Virago Modern Classics series | View all