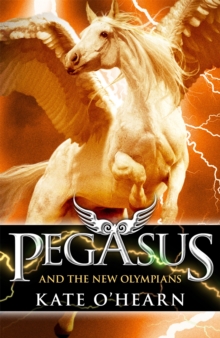 Pegasus and the New Olympians : Book 3
Paperback
Part of the Pegasus series
Description
If you love Percy Jackson, discover the magic of Pegasus.In their third breathtaking adventure, Emily and Pegasus must confront their most dangerous challenge yet.
When news reaches Olympus that a Pegasus lookalike has been spotted in the human world Emily and her friends are determined to fly back to Earth to investigate.
Their new mission takes them from Area 51 to Las Vegas where they discover a sinister conspiracy.
Emily is convinced that they will trace it back to their old enemies - the corrupt governmental agency, the CRU.
But what they find is bigger and more dangerous than they ever expected and will pit Olympian against Human in a war of epic proportions.
With the fate of two worlds in her hands, Emily must make an impossible choice, otherwise everything she has ever known and loved will be destroyed.
Join Emily astride the magnificent winged-stallion, Pegasus, as she embarks on a new flight of adventure through worlds both old and new.Enjoy previous books in the series: Pegasus and the Flame, Pegasus and the Fight to Save Olympus'Anyone who enjoys mythology will find much to love in Pegasus and the Flame.
Kate O'Hearn serves up a winning mix of modern adventure and classic fantasy.' Rick Riordan, author of Percy Jackson.
Information
Format: Paperback
Pages: 384 pages
Publisher: Hachette Children's Group
Publication Date: 01/02/2012
Category: Fantasy
ISBN: 9781444907513
Free Home Delivery
on all orders
Pick up orders
from local bookshops
Reviews
Showing 1 - 1 of 1 reviews.
Review by lexiechan
16/06/2015
A well deserved 4.5 stars and rounded it up! OMG. I got teary eyed. :o That last part with Jupiter and Emily? I can feel Emily's compassion and well, it got me teary eyed. <br/><br/>I didn't know I would like Alexis the Sphinx too. She's so wise and well, she's also strong and loyal. I didn't even got all her riddles correctly. LMAO. My guessed at the last one was SUN. :D LOL, even Frankie the kid can answer it. I skipped the "like a diamond" part.<br/><br/>Emily Jacobs' power is still growing as days go by. This book was about the CRU (as always) now cloning the Olympians. Emily and friends went back to Earth to see the clone of Pegasus without Jupiter knowing it. And the story progress in Earth, getting CRU's attention again when they got there. And ultimately trying to convince Jupiter not to turn the Solar Stream towards the Earth. <br/><br/>I like the Big Three. I like how Pluto's reasonable and how he still stays in Olympus unlike the other Myths saying that he's underground and all that. And he's not like the Pluto I imagined. Oh you know, Pluto is not really that nice Olympian as far as I have read at other books. So this one is a nice change.<br/><br/>I like the Nirads too. It's pretty cool to have them in the series and now they work together with the Olympians. Oh, I also love how the Olympians accepted the New Olympians and offered to take them to Olympus. It's nice there's no longer an animosity between them. But it's pretty weird to picture Dianas in Olympus. :o<br/><br/>I love this third book! Yay! I'm onto the fourth one soon. :)<br/><br/>EDIT: I just remembered what I thought of yesterday before I finished this book... Emily Jacobs reminds me of Jean Grey. Her powers are so like Jean. Maybe that's where O'Hearn gets the idea of Emily's powers?