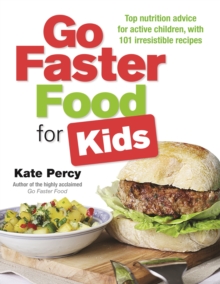 Go Faster Food for Your Active Family : Perform Better | Have More Energy | Eat Delicious Food
Paperback / softback
Description
The essential tool kit to unlock your family's potential!
Perform Better. Have More Energy. Eat Delicious Food.A well-fuelled body will give kids the edge - in the classroom, on the sports field, climbing, dancing, cycling - anywhere! Author of the highly acclaimed Go Faster Food (Vermilion), athlete, cook and mother of three, Kate Percy gives clear, no-nonsense nutrition and top tips on how to improve physical and mental performance, supported by 101 mouth-wateringly delicious, family-friendly recipes.
A perfect tool kit for time-pressed, active families! Recipes include Spiced Apple Pancakes, Banana Buttermilk Blinis, Chilli Chocolate Chicken, Butternut Squash Rigatoni, #GoFaster Burgers, Pad Thai Noodles, Potato Rosti, Home Baked Beans, Kate's famous #GoFaster Energy bars, Power Smoothies and Recovery Shakes.
Direct experience with her own three sporty children motivated fitness journalist, serial marathon runner and cook, Percy, to write this "essential tool kit for busy, active families".With practical performance-enhancing tips and inspirational case studies of 'Go Faster Kids', such as BBC Young Sports Personality of the year nominee, Robert Poth, this book clearly illustrates how nutritious and delicious food can help children, and their families, achieve their full potential. This book was previously released as 'Go Faster Food for Kids'.
Information
Format: Paperback / softback
Pages: 216 pages, 75 illustrations
Publisher: Go Faster Food
Publication Date: 15/10/2013
Category: Fitness & diet
ISBN: 9780957416826