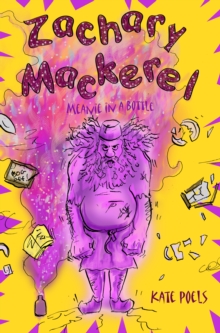 Zachary Mackerel : Meanie in a Bottle
Paperback
Description
Maisie Gable is a very ordinary ten-year-old girl going about her very ordinary ten-year-old business.
Being ten can be as perfect as rocky road ice-cream with extra chocolate sauce and marshmallows when you are reading magazines in your tree house or discussing your teenage heart-throb Cole Matthew's new hairdo with your best friend over a giant tub of jelly beans.
But the ice-cream soon melts to mush when you have to stop watching said heart-throb in superb smouldering vampire form on the television and turn over to infantile cartoons yet again for your annoying little brother.
Then the mush starts to congeal and turn sour in your stomach when you are being shouted at in front of the whole class by your mosquito of a teacher for doing nothing more than yawning. That is Maisie's life. Ordinary...until the day a bird chooses her as target practice to drop his sticky white package on.
Tissue less and with a full afternoon at school looming, Maisie has few options.
She spots a plant with enormous leaves that would be perfect to mop up the mess but, when she tugs it from the ground, she unearths more than she had bargained on. Buried beneath its roots is a teeny bottle containing Zachary Mackerel, a foul and cantankerous genie.
Thirty centimetres tall, purple from fez-covered head to clog-clad feet and a stinking attitude that would rival Shrek's evil ogre uncle on his very meanest of days.
Rude? Yes. Grumpy? Always. Pungent? Like no other smell on Earth, thank goodness. But his saving grace? He can still grant wishes. This magical opportunity sets off a chain of adventures with Maisie at the steering wheel and, sitting in the passenger seat with a bucket of purple popcorn to enjoy the spectacle, is Zachary Mackerel: Her very own Meanie in a Bottle.
Information
Format: Paperback
Pages: 156 pages
Publisher: Kate Poels
Publication Date: 01/08/2014
Category: General
ISBN: 9780992955304
Free Home Delivery
on all orders
Pick up orders
from local bookshops