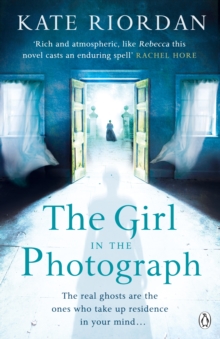 The Girl in the Photograph
Paperback
Description
For fans of Kate Mosse and Kate Morton comes a haunting novel about two women separated by decades but entwined by fate.When Alice Eveleigh arrives at Fiercombe Manor during the long, languid summer of 1933, she finds a house steeped in mystery and brimming with secrets.
Sadness permeates its empty rooms and the isolated valley seems crowded with ghosts, none more alluring than Elizabeth Stanton whose only traces remain in a few tantalisingly blurred photographs.
Why will no one speak of her? What happened a generation ago to make her vanish?As the sun beats down relentlessly, Alice becomes ever more determined to unearth the truth about the girl in the photograph - and stop her own life from becoming an eerie echo of Elizabeth's . . .Lifelong fans of Daphne du Maurier's Rebecca will adore Kate Riordan's exquisite novel, The Girl in the Photograph.Praise for The Girl in the Photograph:'Full of slow-burning tension' Essentials'A sweeping saga of secrets and ghosts' Good Housekeeping'A well executed, brooding, creepy atmosphere' Sunday Mirror'A prickly story full of tension' Sunday Express
Information
Format: Paperback
Pages: 448 pages
Publisher: Penguin Books Ltd
Publication Date: 15/01/2015
ISBN: 9781405917421
Free Home Delivery
on all orders
Pick up orders
from local bookshops
Reviews
Showing 1 - 3 of 3 reviews.
Review by shizz
27/08/2015
The Girl in the Photograph - Kate RiordanI wish I hadn't read this book, I really do. Because if I hadn't I would still have it here waiting for me to begin and become enveloped in its poignant tale of two intertwined lives.I'm seldom an admirer of 'book blurb' and when I read that this story was for fans of Kate Atkinson and Kate Morton, both of whom I love, I was ready to deride the comparison. I had read The Birdcage, Kate Riordan's first novel, a good historical novel but not up there with the Misses Atkinson and Morton. But, oh boy, how right the blurbers are!! More Morton than Atkinson but this just sucks you into the vortex of its narrative and you don't want to leave until you've unravelled the stories of these two women. The atmosphere created is palpable.When Alice first arrives at Fiercombe Manor I was reminded of Daphne Du Maurier and Rebecca. It seemed, momentarily, that Mrs. Danvers was returned, incarnate, in the body of Mrs.Jelphs, appearing like a phantom at the window of Alice's room. But any comparisons slowly ebbed away as this writer claimed her own voice within this story.All the characters are well developed and they all serve a purpose, there's nothing wasted here, no words, no depictions are gratuitous but that doesn't mean that this is an economic story. The descriptions are full, rich and accessible, a juxtaposition of control and flow. The term of a pregnancy used to be refereed to as a confinement and this word is an apt, almost allegorical, description of the lives of both Alice and Elizabeth whose confinements go way beyond their pregnancies. And if we are going to extend this natal metaphor Alice must go full term to unravel the mystery and the history of Elizabeth Stanton. Thank you, Real Readers, for this book. I loved it.
Review by Carpe_Librum
27/08/2015
The Girl in the Photograph is an atmospheric historical fiction novel by Kate Riordan that captured my interest from the very beginning.Set in Fiercombe manor, this is the story of two women, Elizabeth in the 1890s and Alice in the 1930s and we hear from both women in the first person.When Alice moves to Fiercombe Manor, she becomes interested and perhaps even obsessed with the life of Elizabeth, previous lady of the house. Alice starts to unravel Elizabeth's story, and discovers it's not too different from her own.Both women feel oppressed by the social standards and expectations of the time in which they live; Alice by her mother and Elizabeth by her husband, giving the novel an almost gothic atmosphere.Early comparisons to Kate Morton seem to follow every review of The Girl in the Photograph, and I have to agree. I'm a devoted fan of Australian author Kate Morton, and although Kate Riordan is a UK writer, The Girl in the Photograph, definitely feels as though it could have been written by Morton. The way in which Riordan splits her story into two time periods, with the character in the present (in this case the 1930s) pulling at threads of the past and feeling that the ghost of time and the essence of Elizabeth is never too far away is strongly reminiscent of Kate Morton's style.Far from being critical of the similarities in style, I feel I've discovered a new favourite author to add to my list and I eagerly anticipate the next offering from Kate Riordan.P.S. If you're into combining music with your reading, then I suggest listening to Johnny Belinda or Hanging On by Active Child when reading this novel. They seem to go hand in hand.
Review by adpaton
27/08/2015
The Girl in the Photograph, by Kate Riordan, PenguinQuietly tender, this ghost story without a ghost is the evocative tale of Fiercombe Manor, haunted by past secrets and tragedies – but it's also a period study gilded by romance. Riordan uses a dual narrative technique with two timeframes: Alice Eveleigh, a 22-year-old unwed mother, has been sent to hide her shame in the remote Fiercombe valley. It is 1932 and the disgraced Alice is waiting out her pregnancy under the eye of an elderly housekeeper when she discovers an old diary. The diarist is the ill-fated Elizabeth Stanton, lady of the manor in the late 1890s, and the other half of the narrative. Elizabeth's fate is a mystery Alice is determined to solve – especially after she finds a photograph of the doomed beauty. It is only at the end of the book that the languid pace increases and the air of melancholy turns to one of urgency: despite themes of post-natal depression and early death, the book has a satisfyingly upbeat ending. **** Aubrey Paton