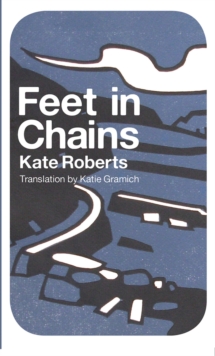 Description
Snowdonia, 1880, and Jane Gruffydd is a newcomer to the district, dressed to the nines and almost fainting in the heat of the interminable prayer meeting out on the mountainside...In the pages of this classic 1936 novel, we see the passionate and headstrong Jane grow up and grow old, struggling to bring up a family of six children on the pittance earned by her slate-quarrying husband, Ifan.
Spanning the next forty years, the novel traces the contours not only of one vividly evoked Welsh family but of a nation coming to self-consciousness; it begins in the heyday of Methodist fervour and ends in the carnage and disillusionment of the First World War.
Through it all, Jane survives, the centre of her world and the inspiration for her children who will grow up determined to change the conditions of these poor people's lives, to release them forever from their chains.
Information
Format: Paperback
Publisher: Parthian Books
Publication Date: 01/09/2012
Category: Poetry
ISBN: 9781908069566
Free Home Delivery
on all orders
Pick up orders
from local bookshops
Reviews
Showing 1 - 2 of 2 reviews.
Review by shanaqui
16/06/2015
I took a module taught by Katie Gramich, in my undergrad: Welsh Fiction in English. For the first time in my life I was introduced to a whole world of Welsh literature, about Welsh concerns, Welsh politics, Welsh history, Welsh future. I liked Feet in Chains when I read it then, but I enjoyed Katie Gramich's translation more: perhaps partly because I read Feet in Chains originally before the module, and now I can look at it again in light of what I've learnt -- and the wealth of Welsh literature I've read since. But I do think this was less dry than the translation I read, and somehow I found myself getting involved in it all so much more.<br/><br/>It doesn't fill me with the same level of outrage as Cwmardy and books like it did, but mostly with a quiet respect for Welsh families like the one described in this book and what they managed to do. It's not a political work in the same way, either; Kate Roberts does not bundle up socialism and tell you to open wide. It's quiet, realistic, sometimes bleak in that.<br/><br/>I'm pretty sure I'll be coming back to Feet in Chains again in future, too.<br/><br/>In terms of this exact edition: there's some footnotes at the end which explain certain translation choices or references, which are definitely worth reading to help understand the context.
Review by SandDune
16/06/2015
This is the story of a family's struggle to survive in the slate mining community of North Wales in the years between 1880, when the main characters Jane and Ifan are married, and the coming of the First World War. It's quite a short novel to cover such a long time period, but by focusing on a few key incidents Roberts illuminates the whole wonderfully, so that the novel as a whole does not feel rushed. There are no extraordinary or dramatic events, more a day to day struggle to put food on the table and keep the children in school.This isn't a particularly uplifting read, I have to say, not one of those feel good books where everyone is poor but the sense of family and community more than compensate for this. Family members certainly appear at the first sign of illness or death, but more like maurauding crows to feast on the spoils, than with any family feeling.I loved the opening scene of the novel though, where the entire community is at an outdoor prayer meeting on a hot June day, but rather than focusing on the state of their soul the thoughts of the congregation are on more mundane matters: <I> 'especially amongst the women, whose new shoes were pinching, their new stays too tight, and the high collars of their new frocks suffocating'.</i> Jane is an object of envy at this, her first appearance as a new bride in the community of Moel Arian:<I><blockquote> 'Her waist was one of the smallest among the women in the congregation, as a result of much tugging at the cords of her stays before she started her way to the service. Her bustle was the largest in the field, the satin of her dress was the heaviest and stiffest there, it was she who had the most frills on her frock and the heaviest feather on her hat. Many of the women's eyes were upon her, since very few of them owned a satin dress which could stand up on its own'</I></blockquote>The contrast between this promising introduction, and the struggle which characterises the rest of Jane's life as the economic conditions of the neighbourhood deteriorate, is a poignant one.Despite the active political life of the author (she was chair of the Women's Committee of the newly formed Welsh Nationalist Party) this isn't a novel that preaches an overtly political message, although politics are certainly dealt with. Rather it shows a concern for the plight of the slate workers who can do very little to improve their lot no matter how hard they work.According to the introduction Kate Roberts is considered the most important Welsh female novelist of the twentieth century, although I have to admit that I hadn't heard of her before coming across this novel. This book was originally written in Welsh and I do wish I could read it in its original language. Reading it has brought on one of my periodic thoughts that I should learn Welsh <b>properly</b>, but given the fairly scant amount of Welsh that I know at the moment the likelihood of me actually getting to a standard where I could read a book like this is fairly non-existent! But there are several sections in the book where the anglicisation of words is key to characterisation, and that is clumsily conveyed when the whole book is in English. Feet in Chains reminded my a great deal of Bruce Chatwin's On the Black Hill, although as this novel was written in 1933 perhaps I should say that On the Black Hill reminded me of this. But they both have a similar sparse feel: covering decades in just a few pages. Overall then, a thought-provoking and worthwhile read - I'll be looking out for more by this author.