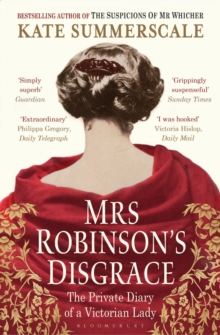 Mrs Robinson's Disgrace : The Private Diary of a Victorian Lady
Paperback
Description
When the married Isabella Robinson was introduced to the dashing Edward Lane at a party in 1850, she was utterly enchanted.
He was `fascinating', she told her diary, before chastising herself for being so susceptible to a man's charms.
But a wish had taken hold of her, and she was to find it hard to shake... In one of the most notorious divorce cases of the nineteenth century, Isabella Robinson's scandalous secrets were exposed to the world.
Kate Summerscale brings vividly to life a frustrated Victorian wife's longing for passion and learning, companionship and love, in a society clinging to rigid ideas about marriage and female sexuality.
Information
Format: Paperback
Pages: 320 pages
Publisher: Bloomsbury Publishing PLC
Publication Date: 01/03/2013
Category: Diaries, letters & journals
ISBN: 9781408831243
Other Formats
EPUB from £6.39
Hardback from £12.95
Free Home Delivery
on all orders
Pick up orders
from local bookshops
Reviews
Showing 1 - 1 of 1 reviews.
I read this book a few months back (can't believe I didn't review it straight away as I enjoyed it <I>immensely</I>), around the time if you got on a London train it was with about five other women reading <I>Fifty Shades of Grey</I>. Set during a particularly difficult time for women (sexually, socially, legally, psychologically - you'd think a female monarch might have eased the way for change or something…), this is the story of Isabella Robinson, an unhappily married middle-class woman who found herself in the middle of divorce proceedings brought on by a rather despicable husband, one who was not exactly a paragon of virtue himself. <br/><br/>Not that his infidelity mattered because this was an era of double-standards where women were meant to live up to high expectation, whilst being looked upon as mental midgets liable to faint of the vapours at any given moment. Henry Robinson quite mercilessly drags his wife through a fresh and young divorce court, using her diaries as 'evidence' of her infidelity, for revenge and to suck on her finances some more. <br/><br/>It's a bit of a sad story really, easy to mistake as a gothic romance gone bad. Isabella's crime seems to be boredom and a lack of direction for her intelligence, imagination and passions. Added to this is being married to a right old bastard and falling for the wrong man, subsequently having all her dirty laundry aired rather publicly. Even the way her husband discovers her secret is right out of a Bronte novel. So for this reason, despite the tragedy of the tale, I did read it with the kind of morbid glee you would reserve for a miserable gothic tale. <br/><br/>Having said that, I didn't find Summerscale's telling of the tale to be skewed in anyone's favour. I found it to be quite balanced in depicting the experiences of both Robinsons. If Isabella comes across as the more sympathetic of the 'characters', it's simply because the odds were stacked against her like any woman in her position at that time (and the future if present politics across the world keep up the regression). <br/><br/>A very good read.