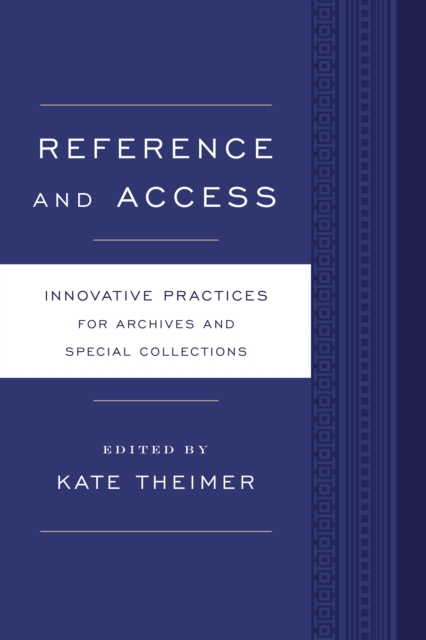 Reference and Access : Innovative Practices for Archives and Special Collections
Paperback / softback
Description
Reference and Access: Innovative Practices for Archives and Special Collections explores how archives of different sizes and types are increasing their effectiveness in serving the public and meeting internal needs.
The book features twelve case studies that demonstrate new ways to interact with users to answer their questions, provide access to materials, support patrons in the research room, and manage reference and access processes.
The featured case studies are1.Building Bridges: Closing the Divide between Minimally Processed Collections and Researchers2.Managing Risk with a Virtual Reading Room: Two Born-Digital Projects 3.Improvements on a Shoestring: Changing Reference Systems and Processes 4.Twenty-First Century Security in a Twentieth-Century Space: Reviewing, Revising and Implementing New Security Practices in the Reading Room5.Talking in the Night: Exploring Webchats to Serve New Audiences 6.A Small Shop Meets a Big Challenge: Finding Creative Ways to Assist the Researchers of the Breath of Life Archival Institute for Indigenous Languages 7.The Right Tool at the Right Time: Implementing Responsive Reproduction Policies and Procedures8.Going Mobile: Using iPads to Improve the Reading Room Experience 9.Beyond "Trial by Fire": Towards A More Active Approach to Training New Reference Staff10.Access for All: Making Your Archives Website Accessible for People with Disabilities11.No Ship of Fools: A Digital Humanities Collaboration to Enhance Access to Special Collections12.Websites as a Digital Extension of Reference: Creating a Reference and IT Partnership for Web Usability StudiesEach of these case studies deconstructs reference and access services into their essential elements: interacting with people who have questions, providing access to materials that meet researcher needs, assisting researchers as they use materials, and managing the processes needed to support reference and access.
The volume will be useful to those working in archives and special collections as well as other cultural heritage organizations, and provides ideas ranging from the aspirational to the immediately implementable.
It also provides students and educators in archives, library, and public history graduate programs a resource for understanding the issues driving change in the field today and the kinds of strategies archivists are using to meet these new challenges.
Information
Format:Paperback / softback
Pages:204 pages
Publisher:Rowman & Littlefield
Publication Date:22/05/2014
Category:
ISBN:9780810890916
Information
Format:Paperback / softback
Pages:204 pages
Publisher:Rowman & Littlefield
Publication Date:22/05/2014
Category:
ISBN:9780810890916
Also in the Innovative Practices for Archives and Special Collections series | View all