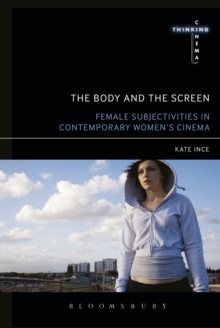 The Body and the Screen : Female Subjectivities in Contemporary Women's Cinema
Hardback
Description
Since the 1980s the number of women regularly directing films has increased significantly in most Western countries: in France, Claire Denis and Catherine Breillat have joined Agnes Varda in gaining international renown, while British directors Lynne Ramsay and Andrea Arnold have forged award-winning careers in feature film.
This new volume in the Thinking Cinema series draws on feminist theorists and critics from Simone de Beauvoir on to offer readings of a range of the most important and memorable of these films from the 1990s and 2000s, focusing as it does so on how the films convey women's lives and identities.Mainstream entertainment cinema traditionally distorts the representation of women, objectifying their bodies, minimizing their agency,and avoiding the most important questions about how cinema can 'do justice' to female subjectivity: Kate Ince suggests that the films of independent women directors are progressively redressing the balance, and thereby reinvigorating both the narratives and the formal ambitions of European cinema.
Ince uses feminist philosophers to cast a new veil over such films as Sex Is Comedy, Morvern Callar, White Material, and Fish Tank; and includes a timeline ofdevelopments in women's film-making and feminist film theory from 1970 to 2011.
Also in the Thinking Cinema series | View all