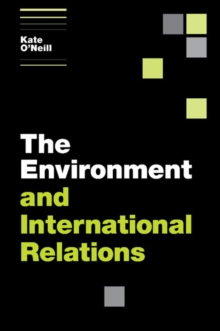 The Environment and International Relations
Paperback
Description
This exciting textbook introduces students to the ways in which the theories and tools of International Relations can be used to analyse and address global environmental problems.
Kate O'Neill develops an historical and analytical framework for understanding global environmental issues, and identifies the main actors and their roles, allowing students to grasp the core theories and facts about global environmental governance.
She examines how governments, international bodies, scientists, activists and corporations address global environmental problems including climate change, biodiversity loss, ozone depletion and trade in hazardous wastes.
The book represents a new and innovative theoretical approach to this area, as well as integrating insights from different disciplines, thereby encouraging students to engage with the issues, to equip themselves with the knowledge they need, and to apply their own critical insights.
This will be invaluable for students of environmental issues both from political science and environmental studies perspectives.
Information
Format: Paperback
Pages: 266 pages
Publisher: Cambridge University Press
Publication Date: 22/01/2009
Category: International relations
ISBN: 9780521603126
Also in the Themes in International Relations series | View all