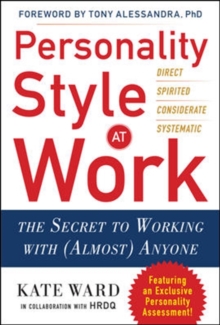 Personality Style at Work: The Secret to Working with (Almost) Anyone
Hardback
Description
MAKE EVERY WORKPLACE INTERACTION POSITIVE AND PRODUCTIVENamed a "Best Career Book 2012" by FINS Finance"Personality Style at Work provides you with the insight and tools to understand your style and to adapt it to others' preferences.
Implement the concepts in this book to ensure that you will be a better communicator, team member, and leader."-ELAINE BIECH, author of The Business of Consulting and editor of The ASTD Leadership Handbook"Kate has done a tremendous job using the Personality Style Model to help us each be the best we can be every day."-LOU RUSSELL, CEO/Learning Facilitator, Russell Martin & Associates, and author of IT Leadership Alchemy, The Accelerated Learning Fieldbook, Project Management for Trainers, and 10 Steps to Successful Project Management"Personality Style at Work is a fresh and timely approach to the interplay of personality styles in the workplace.
You may not need this book if you are a hermit, but it is a must-read for anyone working on a daily basis with other people!"-SHARON BOWMAN, international trainer and author of Training from the Back of the Room"Kate Ward presents a simple, useful model for looking at how personality style affects performance.
A great fi nd for anyone interested in improving their everyday interactions."-GEOFF BELLMAN, consultant and author of Extraordinary Groups: How Ordinary Teams Achieve Amazing ResultsAbout the Book:The most important business skill isn't a skill at all.
It's your personality. And only when you develop a keen understanding of your personality style-and the styles of the people you deal with-will you reach your full potential as a business professional. Personality Style at Work reveals the proven personality style model used by HRDQ, a trusted developer of training materials-giving you one of today's most valuable tools for leading others, contributing to teams, effectively communicating with coworkers, and making better decisions. This groundbreaking guide helps you achieve positive results in virtually any workplace situation.
Whether you're a high-level manager, a salesperson, a customer service professional, or an entry-level employee, you'll learn why others behave as they do in specifi c situations and how to use that knowledge to turn every interpersonal encounter into a win-win scenario. The HRDQ model has been administered to more than one million people-and it has generated remarkable results.
It is based on four principal personality styles:Direct: High assertiveness, low expressivenessSpirited: High assertiveness, high expressivenessConsiderate: Low assertiveness, high expressivenessSystematic: Low assertiveness, low expressivenessWhich one describes you?
Knowing the answer is the first step to achieving consistently positive and productive personal interactions-which is why Personality Style at Work includes an assessment that you can take to identify your style. Armed with this valuable self-assessment, you can adapt your behavior to create more practical, harmonious working relationships.
Personality Style at Work opens the door to a whole new way of interacting with others in a way that benefits you, your coworkers, your customers, and your entire organization.
Information
Format: Hardback
Pages: 256 pages, 30 Illustrations, unspecified
Publisher: McGraw-Hill Education - Europe
Publication Date: 27/04/2012
Category: Personnel & human resources management
ISBN: 9780071791601
Free Home Delivery
on all orders
Pick up orders
from local bookshops