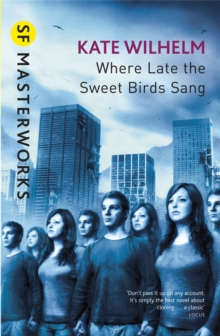 Where Late The Sweet Birds Sang
Paperback
Description
The Sumner family can read the signs: the droughts and floods, the blighted crops, the shortages, the rampant diseases and plagues, and, above all, the increasing sterility all point to one thing.
Their isolated farm in the Appalachian Mountains gives them the ideal place to survive the coming breakdown, and their wealth and know-how gives them the means.
Men and women must clone themselves for humanity to survive.
But what then?
Information
Format: Paperback
Pages: 256 pages
Publisher: Orion Publishing Co
Publication Date: 12/10/2006
Category: Science fiction
ISBN: 9780575079144
Other Formats
eAudiobook MP3 from £14.24
Free Home Delivery
on all orders
Pick up orders
from local bookshops
Reviews
Showing 1 - 4 of 4 reviews.
Review by sturlington
16/06/2015
In this post-apocalyptic novel, civilization has been destroyed by some unspecified means involving environmental degradation, pandemics and famine. But one extended family, seeing the end coming, has used their wealth to isolate themselves in a well-protected valley and has constructed the hospital, labs and mill they will need to survive. Short on food, they develop cloning techniques to produce more livestock. When they find that most of them have become infertile, they start cloning themselves as well, with unforeseen consequences.The story is told in three parts, each following a similar arc, each ending in a main character leaving the family's compound. In the first section, a brilliant doctor helps develop the cloning process but is ousted by his own younger clones, who are already exhibiting disturbing behaviors, such as losing their individual identities. In the second part, a clone is separated from her sister clones when she goes on an expedition to look for supplies in the ruined cities. As a result, she develops an individual personality and an artistic vision that the other clones interpret as madness when she returns to the compound. She must flee to keep from living a life as a drugged-up "breeder." In the final section, her son is being raised by the clones but clearly doesn't belong among them. Only he has the ingenuity and creativity necessary for continued survival as the machines and systems set up by the original survivalists begin to break down.What I thought about as I read this book was recent news stories about children so micro-managed by their "helicopter" parents that they have no ability to cope with the real world and break down as soon as they get to college. The young clones in the story reminded me of younger generations so coddled that they cannot make a decision on their own. How can we survive and advance as a species when we lose our individuality and cannot think for ourselves? is the question.This is exactly the dilemma faced by the clones. They become so used to a life where they never have to think for themselves that they lose all of their creativity and problem-solving abilities. They become dependent on machines they don't understand, and when those break down, they cannot come up with creative ways to fix them. So they are doomed. Only those who can establish an individual identity through isolation from the main group are able to learn how to survive.It may seem on the surface that this novel is a somewhat dated horror story about cloning. But look deeper–the story brings up issues that are very relevant today. Wilhelm is raising a warning flag that we should safeguard our individuality and nurture our creativity if we want to survive.
Review by maggotbrain
16/06/2015
I liked this book. I had no expectations before reading it, and found myself wanting to read and read until I got to the conclusion. In some ways this is odd, as there doesn't seem to be a great deal of pace or action in the cold light of day. The character development is somewhat stunted (necessarily so to portray the flat nature of the clones), the science behind the apocalypse and the crafted solutions is at best unlikely, and the style of writing is clearly dated.That said, the main themes alone, and the questions it raises are so absorbing, it would be hard not to get drawn into how it all pans out. Some of the scenes are very touching and beautiful, and at other times quite disturbing (usually the seeming coldness of the clones and their decision process).From a personal point of view, this was an interesting development in the thread that seems to be emerging in my recent choice of reads. For example, I have recently finished Ayn Rand's Anthem, and found the premise of her outlook almost as disturbing as the communist dystopia she was depicting. Her premise that the individual is king and society has no right to make any uniformity acceptable, is a major theme in Wilhelm's book. However, whereas Rand almost leaves you cowering under the sheer defiant challenge, Wilhelm takes you on a journey over time to watch as society evolves and changes. Although Wilhelm clearly has her own point of view, the writing allows for the reader's mind to develop its own opinions and attitudes.Warrants 4 stars as a sci-fi classic, but the many faults make it an imperfect read.
Review by salimbol
16/06/2015
An intelligent, thought-provoking treatment of the sociological and psychological implications of cloning, which grapples with the age-old question about the needs of the individual as opposed to the needs of society (especially as, in the author's universe, cloning seems to engender a kind of hive mind and individuality is discouraged). Wilhelm conveys a strong sense of the natural world and humankind's place within it, and is also a dab hand with the inevitable glimpses of the destroyed world outside of her clones' haven (indeed, some of the searing imagery here is made all the more remarkable for the overall 'quietness' of her prose). This book was written in the late 1970s and many of its thematic concerns still resonate strongly today. An excellent addition to the SF Masterworks collection (and how nice to see another female author making the list...).
Review by shanaqui
16/06/2015
I really wanted to like this book. Other people spoke so highly of it. But it felt so familiar: the themes, the characters (barely sketched out as they were), the whole setting... Parts of the writing are beautiful, but overall to me it felt too moralising, too typical. The idea that cloning will destroy individuality and thus creativity doesn't seem fresh -- though goodness knows, I haven't tried to work out the chronology of that idea: for all I know, Wilhelm was the first. It just didn't work for me, and in the descriptions of the clones in the first section of the book, I couldn't help but think of The Midwich Cuckoos...It's an easy enough read, and I think deservedly a classic, but I think perhaps it would have had more impact on me if I'd been alive when it first came out. To me it feels outdated, I'm afraid, and it isn't high on the things I value in narratives. I didn't <i>dis</I>like it, but I won't be singing its praises either.
Also in the S.F. Masterworks series | View all